A retired British couple will remain behind bars until they are extradited to the United States to prevent them from trying to harm themselves in a bid to stall the process, a judge ruled last night.
Grandparents Paul and Sandra Dunham were taken to hospital on Thursday after they both took a drug overdose the night before they were due to hand themselves to police ahead of being taken to US marshals at Heathrow airport, Westminster Magistrates' Court heard.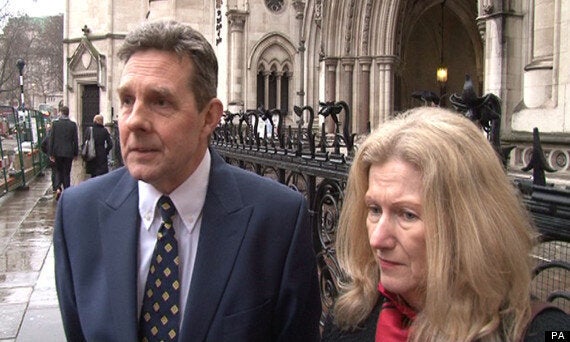 Paul and Sandra Dunham, the retired British couple set to be handed over for extradition to the US
The couple, both 58, were remanded in custody after Senior District Judge Howard Riddle concluded they had taken the drugs deliberately to avoid or delay their extradition to face fraud charges and could not be trusted not to try it again if released on bail.
The hearing was told they took the drastic step after their MP, Conservative Treasury minister Andrea Leadsom, informed them on Wednesday night that Home Secretary Theresa May, who previously approved their extradition, had pulled out of a planned meeting to discuss their case.
The judge said that after a lengthy legal battle and finding all remaining avenues to avoiding extradition blocked, the Dunhams had taken enough drugs to do themselves real harm, despite Mrs Dunham later telling a nurse at Northampton General Hospital that it had been a "cry for help".
Judge Riddle said."There is simply no other conclusion that I can reach on the face of it than at the very least it was to delay or prevent the (extradition) process from taking place."
He added: "In 14 days or thereabouts a decision will be taken that extradition is imminent and at that stage, despite the protestations that they won't, there is a real risk they will take steps to harm themselves."
Defence lawyer Ben Watson told the court the Dunhams had had a long and stressful day tying up their lives in the UK and saying goodbye to friends and family, including their grandson, after being given short notice to report to Belgravia police station in London to be extradited.
He told them the news from Mrs Leadsom, the MP for South Northamptonshire, had come as a blow at a very stressful time.
He said: "It was really that news that really tipped them over the edge.
"It was the time of the day combined with the hope of a last minute reprieve lost."
The deadline for them to be extradited was previously May 22 but the court heard that Mrs May has granted the couple 14 days from yesterday before attempts are made to transport them again, the court heard.
The couple lost a High Court battle last month against extradition to Maryland to stand trial over fraud charges relating to Mr Dunham's company, Pace.
Mr Dunham, who was chief executive, president and a 20% shareholder in the US company which manufactured soldering irons for the electronics industry, was indicted on 13 counts of fraud and money laundering by a grand jury in Greenbelt, Maryland, in December 2011.
Mrs Dunham, also 58, is accused of eight counts of fraud for allegedly aiding and abetting him. The couple deny any wrongdoing.
Journalists due to take a statement outside the Dunhams' property on Thursday in Northampton alerted police when the couple did not answer the door.
Officers forced the door open and contacted paramedics, who arrived in two ambulances and took the couple to Northampton General Hospital.
They were discharged yesterday afternoon and taken to court in London.
Smartly dressed and showing no outwards signs of ill health they nodded to their lawyer when they were refused bail last night.
Mr Watson said what had happened had been a "salutary experience" for the couple which they did not intend to repeat.
But Judge Riddle overruled him and said the couple will remain in custody until a new attempt to fly them to the US.
The judge highlighted a statement given by Mr Dunham during the High Court case in which he "rationally" threatened to take his own life if extradited.
Psychiatric tests on the couple after their hospitalisation had found no acute mental illness, the court heard.
Judge Riddle said he would take no action over their breach of bail on "humane" grounds.
The court heard that US officials were already in the UK when the Dunhams were discovered at their home, and returned empty-handed across the Atlantic.
As well as their MP's backing, the court heard they are also being supported by Janis Sharp, mother of alleged hacker Gary McKinnon, whose own extradition to the US was blocked.
Popular in the Community