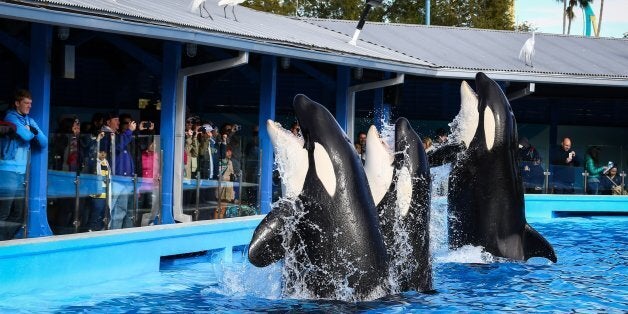 In a dramatic move that could have a great impact on how animal parks conduct business, a major travel company has announced it is to boycott a number of attractions due to welfare concerns.
Animal charities have welcomed the news that STA Travel, which specialises in trips for students and young people, has said it will stop selling tours involving elephant rides and tiger temple visits to tourists.
The company confirmed it is also reviewing other excursions, including SeaWorld in Orlando, Florida, which has found itself the subject of controversy for keeping whales in captivity, highlighted in last year's documentary film, Blackfish.
Philip Mansbridge, the chief executive of Care for the Wild, which runs the RIGHT-tourism.org website promoting animal-friendly tourist activities, described the move as "major".
He said: "It's what we needed to see from a big player in the tourism business, but it was never going to be easy for a large company to say 'no' to big money-makers like SeaWorld. It's taken courage on their behalf to do this, and we congratulate them.
"This move by STA sends out a strong message that animals don't exist for our entertainment. It follows Abta's excellent animal welfare guidelines which were produced last year, which aim to get the travel industry to think harder about where they send their customers, and Richard Branson consulting on dolphinariums, so it feels like there's a real sea-change going on.
"Customers are becoming more aware of what responsible tourism means when it comes to animals, and tour operators are starting to listen."
Mimi Bekhechi, Peta's campaign's associate director in the UK, said the time had come to stop companies profiting from the "profound suffering" of captive animals.
"Companies still profiting from the captivity of sentient beings have their days numbered," she warned.
Kathryn Kirkpatrick, STA Travel's social responsibility programme manager, said the decision was made because "if something isn't up to our standards, we remove it."
"We are reviewing our entire portfolio of animal-focused tours. This is the beginning of a lengthy process for STA Travel to ensure we are offering the very best possible range of experiences for our customers.
"SeaWorld is one of many animal-focussed experiences we will be reviewing but continue to sell."
In a statement SeaWorld Parks and Entertainment defended its attractions.
"Although STA Travel are not contracted directly by SeaWorld, it is disappointing that they have made the decision to stop selling tickets to our parks. It is unfortunate that STA Travel did not approach SeaWorld when conducting this evaluation so that we could share with them our high standards of care and the rigorous inspection and accreditation process that assures the health and well-being of our animals.
"Unfortunately, like most zoological institutions, we are sometimes targeted by animal activist groups that are opposed to the display of animals and too often trade in charges that are completely baseless," they added.
Related