Ukip leader Nigel Farage's "beer-swilling bonhomie mask" is slipping to reveal an extremely nasty view of modern Britain, Nick Clegg has said.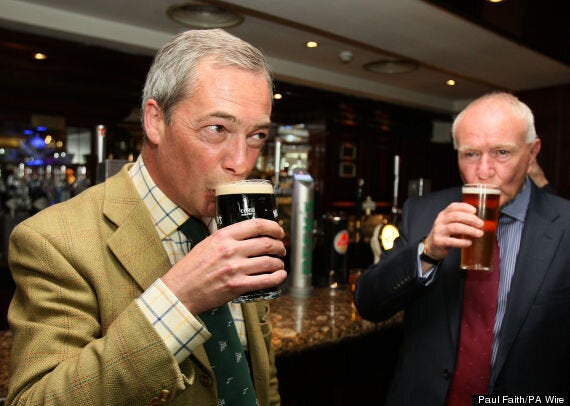 Clegg said Farage's 'mark is starting to slip'
Asked if Farage was "indulging in racist language" with his Romanian comments, Clegg told BBC One's The Andrew Marr Show: "I think the mask is starting to slip and I think what's being revealed that sort of behind the beer-swilling bonhomie is a rather nasty view of the world.
"I think anyone who singles out one community, one nationality, and says 'I don't want to live next door to them', I really think that's the politics of division and I think it really should have no place in modern Britain.
"I would say to people if you don't like that point of view, if, like me, you are really put off by this very divisive, nasty approach to things then please go out and vote.
"The more people don't vote the more likely it is that Ukip will get in."
Clegg added he would be happy to debate again with Farage, after their recent television clashes.
He said: "I like to think that because I decided to take Nigel Farage on... that's one of the reasons he's being subject to more scrutiny, that's why you're seeing the mask slip and it's revealing an extremely nasty view of modern Britain."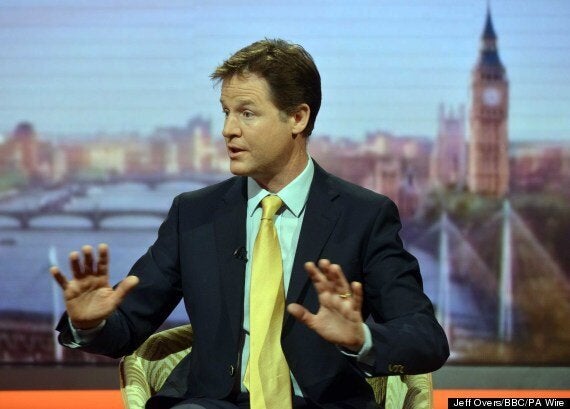 Clegg said he would be happy to debate Farage again
The Lib Dem leader also refused to predict how many euro MPs he expects his party to have after Thursday's elections, adding Ukip would do well.
Pressed for his prediction at Thursday's euro election after being reminded of his party's poor opinion poll ratings, Clegg said Ukip would strike a "huge blow" to Labour's traditional support in the North.
He said: "I think Ukip is going to do well but very well particularly at the cost of Labour in their traditional heartlands, for instance in the North.
"That's not something you pick up in the polls but we'll see next week whether my prediction or yours comes true."
Clegg also accused the Conservatives of stamping their feet and petulance in their attempts to reform the UK's relationship with the EU.
Prime Minister David Cameron has insisted he will not return to Number 10 unless he can secure an agreement that an in/out EU referendum will go ahead in 2017.
Clegg said: "You cannot win the argument in Europe unless you are in Europe", saying of the Tory approach: "I think there's a sort of elevated form of petulance to say we are going to stamp our little feet to get our little short shopping list of really rather minor changes, which they're now advocating, and if we don't get them with them we'll quit.
"Guess what happens if you do that? People will say 'suit yourself then'."
Clegg said many of the changes sought by the Tories are "motherhood and apple pie" that most people would agree with.
Asked if it was a "phoney agenda" from the Tories, he went on: "I think it's worse than that.
"It's never going to satisfy large parts of the Conservative Party because large parts of the Conservative Party actually want to join Nigel Farage and leave.
"They don't have the courage to say so, so what you've got is this phoney war if you like within the Conservative Party which is now being papered over, those cracks papered over, by this arbitrary timetable of holding a referendum in 2017."
Clegg said he had no problem with a referendum or reforming the UK's relationship with the EU, adding: "I have a problem with the internal divisions of the Conservative Party being the determining factor of what should be a policy taken in the national interest."