Ian Beale is at the centre of an emotional dispute which unfolds at his daughter Lucy's funeral in tonight's (20 May) 'EastEnders'.
The Albert Square veteran just about manages to hold things together after finding out his daughter was having a secret affair with Max Branning before she died, however when he says Max carrying the coffin he finally snaps.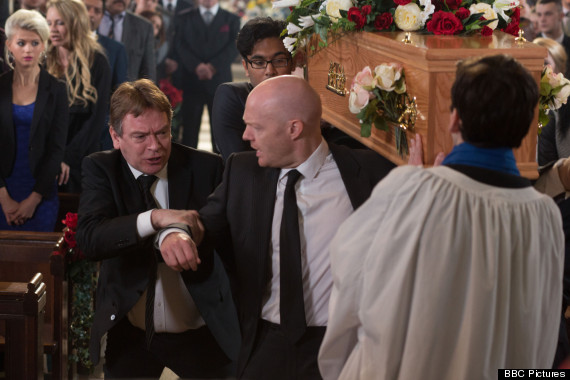 Ian confronts Max
As the rest of the congregation watch on, Ian lashes out at Max, who fails to calm Ian down.
Since Lucy's murder there has been one arrest in Walford, though viewers will have to wait until February 2015 to find out who was responsible for the her murder.
In recent weeks the E20 residents have struggled to cope with the news of Lucy's death and her brother Peter has shared a kiss with Lauren, who he has grown close to since the murder.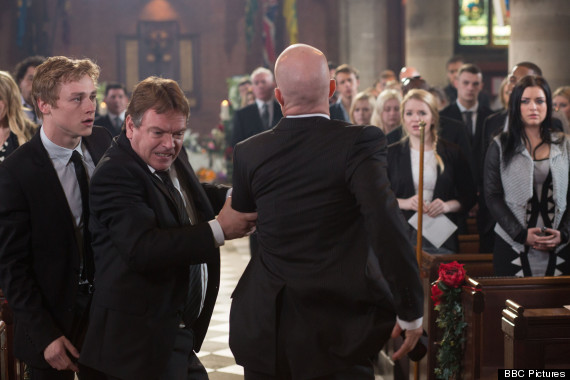 Peter Beale and Abi Branning look on in shock
It has been revealed that a member of the Mitchell family is set to return to the show later this year, sparking speculation as to whether he could be responsible for Lucy's death.
Plenty of 'EastEnders' actors have had a guess at who killed the youngster, including Jacqueline Jossa who plays Lauren Branning who has a novel idea as to how the plot may finish.
The Beale family are currently struggling to cope with their loss and Ian has even turned to arch-enemy Phil for support.
Tune in to 'EastEnders' on Tuesday 20 May to see the action unfold.
LIKE US ON FACEBOOK | FOLLOW US ON TWITTER