An aspiring teenage theatre star developed an eating disorder after the "petrified" 15-year-old was groped by Rolf Harris, his trial has heard.
Tonya Lee, 43, who has waived the usual right to anonymity given to alleged sex offence victims, claims Harris touched her after she travelled to Britain for the tour in 1986.
She said she lost between 9lb and 13lb after she "stopped eating" and would "throw up" during the six-week trip. After she returned home, she abandoned her dream of becoming a stage star.
" I just wasn't there any more, I lost that passion," she said.
Harris, who denies 12 counts of indecent assault he faces, met her when she and her group landed at Heathrow Airport, and later went for dinner at a pub with them.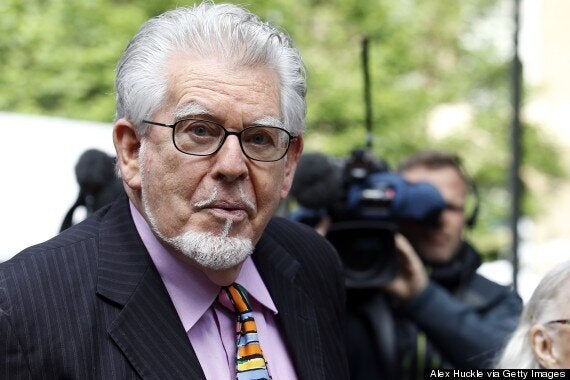 Rolf Harris denies 12 counts of indecent assault
Lee, then aged 15, said she was invited to sit on the entertainer's lap, and that his hand began to creep up her thigh.
She said: "I could feel that there was some movement happening beneath me. He was moving back and forth rubbing against me.
"It was very subtle, it wasn't big movements. Everything just seemed to be going on as normal."
The jury at Southwark Crown Court was told that Harris started to pat her on the thigh.
She said she felt "very uncomfortable" as Harris touched her genitals over her clothing, and "started to panic" before rushing off to the toilet.
"I was wondering what to do, 'How can I get out of this?', and also I was confused. The whole time this was happening just normal interaction was going on," she told the court."
The alleged victim said Harris continued "laughing" with other people while touching her.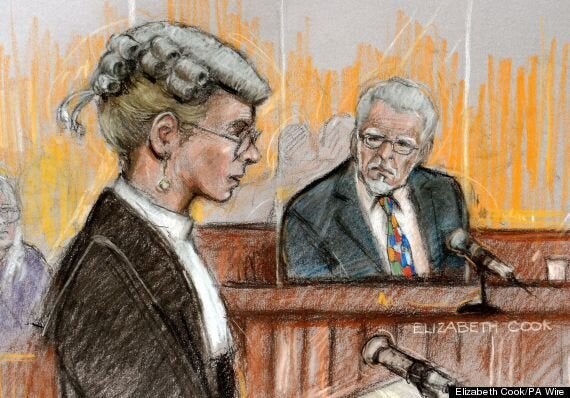 Harris, pictured earlier in the trial in a court sketch
Lee said she did not tell anyone because theatre director Kathy Henkel was friends with Harris and she felt confused.
When she came out of the toilet, Harris was waiting outside, the court heard.
The alleged victim said: "He came up and I don't know the exact words but it was something like 'I just want to chat to you some more'.
"I was intimidated because I felt quite claustrophobic."
The jury heard Harris got her in "a big bear hug", and put his hand down her top and fondled her breast.
Lee said: "I was petrified... I was in shock."
She added: "I felt stuck. I felt like I couldn't move. I was petrified, I froze. I was against the wall and a pot plant and he had one arm around me so it looked like a hug."
Harris then touched her intimately, the court heard.
Lee said: "I just wanted to burst into tears at that stage, and I just wanted to run."
She added: "I was gobsmacked, I was shocked. Completely in disbelief."
Three of the 12 charges, which took place between 1968 and 1986, relate to Lee's claims.
She said she thought no-one would believe her "because it was Rolf Harris", but that she became "an empty vessel" after the alleged abuse.
"I was wondering why I was picked out of all those other people," she said.
After the trip, she stopped going to the theatre group because she had "lost that passion", and her schoolwork suffered, the jury was told.
Lee claimed her ex-boyfriend encouraged her to sell her story about Harris's alleged sex attack - but said cashing in on the abuse was a "huge mistake".
She insisted she was not putting all the blame on her ex-boyfriend and said she took "responsibility" for it. But she said she had been drawn in by the "charlatan" Max Markson, an Australian celebrity publicist.
She added: "My biggest concern in all of this was that not, in a million years, did I ever think that I would get a chance to sit here in a courtroom in England and say what happened.
"The money is a huge regret, it is a huge mistake and I fully take responsibility for that."
"It was a huge whirlwind. Fian (McDaid, her then boyfriend) was in heaven thinking it was money and it was the answer to our prayers. And to me, money can't fix that."