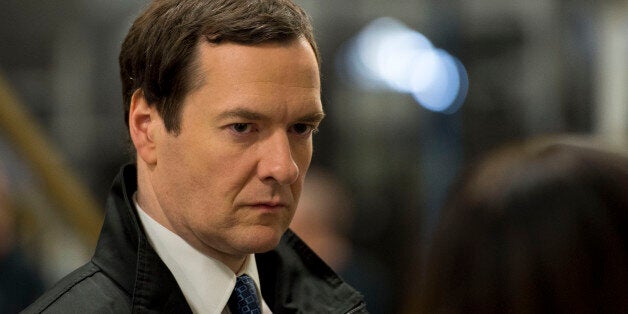 George Osborne has aimed a vicious attack at Ukip, branding the party "deeply pessimistic, depressing [and] anti-business".
The Chancellor will launch his attack on Ukip - as well as Labour - in a speech to the Confederation of British Industry tonight, saying: "Whether from the Left or the populist Right, we now see a deeply pessimistic, depressing, anti-business agenda."
'They want to constrain foreign investment in our economy, and deprive us of the British jobs that it has created in industries from car manufacturing to energy.
'They want to set prices, regulate incomes, impose rent controls, wage war on big business, demonise wealth creation, renationalise industries – and pretend that they can re-establish control over all aspects of the economy."
Ahead of Thursday's European elections, Osborne will lash out at the "forces of pessimism" putting Britain's free-market at risk.
He will tell business leaders: "For all of my adult life, since the fall of the Berlin Wall in the year I left school, there has been a political consensus in this country that Britain's future lies as an open market economy."
"Sadly, that consensus that we put the national economic interest first — ahead of opportunist party advantage — is under threat for the first time in 25 years."
Meanwhile, CBI president Sir Mike Rake will warn about the effect of political uncertainty for British businesses.
He will say: "Over the next 18 months, we face various challenges. Starting with European elections, then the Scottish referendum, the general election and then a possible EU referendum in 2017.
"As our economic situation has stabilised and now looks more promising, the focus of business concern has shifted towards these issues. The uncertainty they engender is climbing up businesses' risk registers, becoming a factor in investment decisions."
Rake will reiterate the CBI's skepticism about Scottish independence as well, saying: "Because of the range of unknown and unforeseen consequences of independence, it is difficult to see how independence would be better for investment and for jobs. The case has not been made that an independent Scotland would be better for our economy."
Business Secretary Vince Cable said: "It's right to highlight that leaving the UK could present sizeable risks to Scottish businesses. As recovery takes hold, now is the time to exploit joint strengths and opportunities, not weaken them.
"The UK Government is setting out a clear case that Scottish firms benefit from our shared currency, free and unhindered trade links, a strong and diverse labour market and UK-wide research and investment opportunities."
Labour MP and shadow business minister Ian Murray said: "Our UK single market is vital for Scottish employers and sustains so many jobs here. Scottish businesses have access to a market of over 60 million people across the whole of the UK, rather than just five million people in Scotland.
"Why would we want to put up barriers between Scottish firms and their customers elsewhere in the UK? If we leave the UK, it would create uncertainty for Scottish firms and cost jobs here."
A spokeswoman for the pro-independence Business for Scotland group said: "The CBI's reputation has already been permanently damaged by its No campaign which has led to the withdrawal of membership by more than 20 Scottish organisations.
"As CBI membership declines, that in Business for Scotland is increasing by the day and now stands at just under 2,000 people. This organisation's growth is clear testament to the fact that more and more businesses here see the opportunities that independence offers them.
"They see that Scotland's economy will thrive in the hands of a Scottish Government that understands its needs."
Popular in the Community