Rebekah Brooks has been the victim of a "witch hunt" in the phone hacking trial, jurors were told on Wednesday.
Concluding his closing speech in the trial has lasted months, Brooks's lawyer attacked the prosecution for its approach to the former News of the World editor.
Jonathan Laidlaw QC told the Old Bailey trial that there had been an "unhealthy focus" on his client during the trial and she had been a figure of hate ever since it emerged Milly Dowler's phone had been hacked during her editorship. Rebekah Brooks denies the charges against her
He rejected prosecutor Andrew Edis QC's suggestion that her evidence had been carefully scripted saying it would have taken "supernatural powers" to have maintained the pretence.
He told jurors: "Listening to some of the first parts of Mr Edis's speech to you, the jury, on Mrs Brooks's case - you would know that medieval trial for witchcraft was the accused could never win.
"The terrifying reality for a woman in the 16th century was when it came to witchcraft it was the allegation itself that killed her. Once a woman was accused of being a witch she was dead.
"If she drowned on the ducking stool she was dead. If she survived the ordeal she would be condemned as a witch and burnt at the stake. Everyone knew a real witch floats.
"Without a doubt this case has not been a witch trial but the prosecution approach has been that of a witch hunt."
Laidlaw also said claims she covered up evidence at the time of her arrest for phone hacking are a fantastical "pantomime" - and acted out what that might have sounded like.
Brooks, her husband Charlie and News International head of security Mark Hanna are accused of conspiring to pervert the course of justice in July 2011 by hiding or destroying evidence, which they deny.
Laidlaw rejected the idea of a conspiracy, saying that Charlie Brooks had just been trying to keep his embarrassing porn collection out of police hands to avoid a "Jacqui Smith moment" for his wife, in reference to the former home secretary's husband being caught watching porn films.
He ridiculed the idea that Brooks, 45, was an "arch criminal" who had even corrupted her own mother Deborah Weir, who is in her 70s.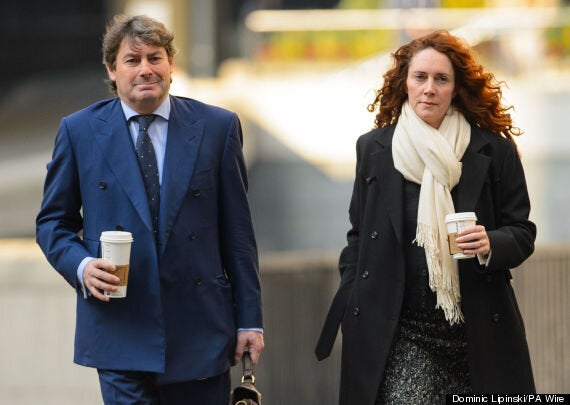 Brooks and her husband Charlie Brooks, outside court earlier in the trial
He invited the jury to imagine the conversations Brooks would have had to have had in order for the prosecution to be right.
Laidlaw said: "'Darling, I hope you don't mind I have a confession to make to you. I know you thought I was a really nice person when you married me.
"I am in fact a serial criminal. It's true. I am a serial criminal. I'm up to my neck in all sorts of trouble - of course none of this has anything to do with you, Charlie.
"I understand this news might come as something of a shock to you. I get it - you are feeling pretty disillusioned at the moment but could you take some of my electronic devices and could you or Mark Hanna chuck them in the river on your way down to London?'"
The lawyer asked: "How would anyone ever go about having a conversation like that? It's the kind of conversation that could occur between one hardened criminal and another when disposing of a corpse or concealing a stash of drugs.
"But is it the kind of conversation Rebekah Brooks could have had with her husband who had himself nothing to do with phone hacking or paying public officials?
"I suggest it's not but this is just the kind of version the prosecution want you to conclude may have happened. The story is less a novel, it's more of a pantomime with a cast of villains.
"Mrs Brooks is the arch criminal with her lying husband Charlie, her lying PAs, her lying head of security Mr Hanna - with such an outstanding military service before he had the misfortune to meet Rebekah Brooks - and her lying mother too."
He concluded: "It's beyond ridiculous. The prosecution are trying to make you believe this fantastical tale of all Mrs Brooks did and everyone she corrupted."
The alleged plot involved collecting property from the Brooks's homes in London and Oxfordshire and concealing it while police carried out searches.
The stash, including computer equipment and lesbian porn, was later handed in after it was discovered in bin bags in the underground car park of the Brooks's London flat, the jury has heard.
All the defendants deny the charges against them.
Popular in the Community