The Moto E will be released on pay-as-you-go for around £89
4.3in 540 x 960 qHD display
1.2 GHz dual-core Qualcomm Snapdragon 200
1GB of RAM / 4GB storage
Operating system: Android 4.4 "KitKat"
5-megapixel rear camera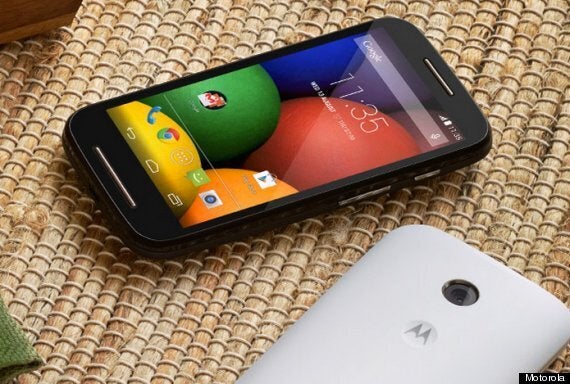 It's difficult to get anyone too excited about a cheap smartphone in the UK. That's not because we've all got money to burn, mind you. It's because basically every smartphone is subsidised on contract -- and working out how much your phone actually cost is much harder than it looks. Psychologically, the £10 a month difference between a top and mid-range phone over two years feels like nothing. In reality it's £200. Your phone is expensive - you probably just don't know it.
There are cheap smartphones, of course - the Samsung S3 Mini, or Nokia's various lower-end devices are examples - and they are generally sold upfront on a pay-as-you-go contract. But almost all of them are awful devices, with no real relationship to their premium non-mini namesakes. If you just want a cheap phone, but want it to run a decent, fast version of Android with no drawbacks, you're mostly out of luck.
The new Moto E wants to fill that gap. It's a defiantly cheap phone, at just £89 (or £79 on O2 as it happens) -- even cheaper than the previous £135 Moto G -- and with lower-grade specs to match. But still manages to deliver a fast and pure Android phone experience in a neat, unspectacular package.
The device itself is nicely designed, and pleasant in the hand. It's a bit thick and chunky, and heavy at 142g, but it's nicely curved too and doesn't seem obviously 'cheap'. It comes in matt black or white, and there are a range of replaceable backs on the way with more colour, if you want it. The screen is also pretty decent, compared to its competitors. The 540 x 960 panel is only 256 pixels-per-inch, but on a 4.3-inch screen that's not terrible. It's a bright screen too, scratch resistant and splash proof, and it looks okay outside.
In general use, the Moto E performs well. No, the Snapdragon 200 won't get you much joy with the latest 3D games. But in truth that won't affect most users - the best mobile games tend to be pretty light on the processor anyway. The more day-to-day tasks of browsing and email are fine, especially with the 1GB of RAM and straightfoward stock Android 4.4 OS. One of the big drawbacks though is storage space - there is just 2GB here, which is an unfathomably low number and virtually demands you get an extra MicroSD card to beef it up towards 32GB.
Battery wise, it also performs roughly on a par with what you'd expect - around a day's use. So no surprises there, but no nasty shocks either.
But the other but downside, other than storage space, is the camera. The Moto E features just a 5-megapixel snapper, and it's pretty awful with poor colour and detail reproduction, and a severe lack of 'snap' compared to iPhones from several years ago. You'll be able to use it for a few snaps here and there, but you'll be green with envy if any of your friends have an even slightly higher-end device.
With those drawbacks in mind, though, it's hard to not recommend the Moto E if you're on a budget, or just want a smartphone for email and a bit of browsing. It's solid, attractive, fast enough and cheap, and while no one is ever going to fall in love with it as a piece of design (and the 4G Moto G is better if you can stretch that far), as a basic, functional piece of hardware it's hard not to admire.