This video shows the moment cyclists on a quiet Sunday morning came across an illegal rave.
Tim Fry and a friend went for a cycle at Devil's Dyke on Sunday morning, a few miles north of Brighton, when they came across the rave, which police attracted 2,000 people in 400 vehicles.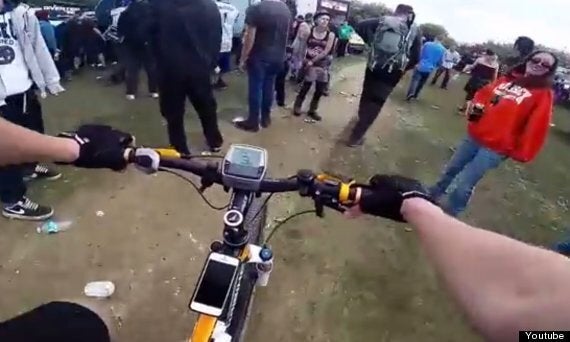 The cyclist came across the rave at the beauty spot on Sunday morning
The video shows Fry pelting down the South Downs until he comes across crowds of people and thudding bass and has to slow down and swerve to avoid the crowds.
He passes other people in walking gear, who also look like they're having their idyllic trip spoiled by the illegal gathering.
"This is fucking bizarre," he says to himself at one point. "That can't be official."
Police officers were called at 1am on Sunday but did not stop the party because poor weather conditions, the volume of people and the number of officers available meant "it was not appropriate or practical to attempt to close the gathering safely", according to Sussex Police.
At its height, 400 vehicles, seven sound systems and an estimated 2,000 people were present, but rather than stop the rave on the land, which forms part of Sussex's South Downs, police set up road blocks to prevent further people from turning up.
Chief Superintendent Wayne Jones said: "These raves can cause a huge amount of disruption to local residents and damage to the land.
"Where we can, we will attend a report at the earliest opportunity to try to bring it to a safe conclusion.
"When a large number of people are already at the site it is not always possible for us to shut down the rave safely with the police resources available at that time.
"However we will always take action to contain the event, to reassure local residents, and work with partners, such as the National Trust in this case, to minimise the impact."