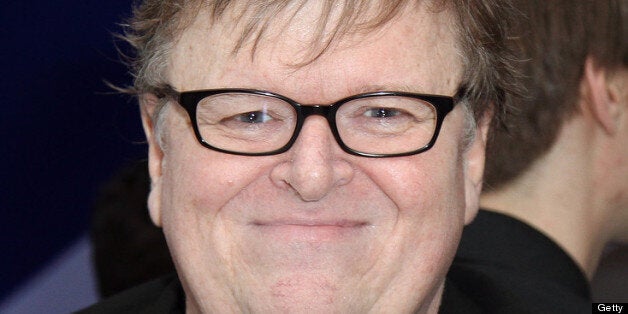 NEW YORK -- The national symbol of America is no longer the bald eagle but the gun, according to filmmaker Michael Moore. The director, who made the 2002 documentary Bowling for Columbine, responded to requests for comment following the latest mass shooting in the US in which Elliot Rodger, 22, went on the rampage in Isla Vista, California, killing six people (three stabbed to death, three shot to death) before turning his gun on himself.
Writing on Facebook, Moore said, "With due respect to those who are asking me to comment on last night's tragic mass shooting. I no longer have anything to say about what is now part of normal American life. Everything I have to say about this, I said it 12 years ago," a reference to his film that charted the Columbine massacre carried out by Eric Harris and Dylan Klebold in 1999.
Moore, 60, continued: "We are a people easily manipulated by fear which causes us to arm ourselves with a quarter BILLION guns in our homes that are often easily accessible to young people, burglars, the mentally ill and anyone who momentarily snaps. We are a nation founded in violence, grew our borders through violence, and allow men in power to use violence around the world to further our so-called American (corporate) 'interests'. The gun, not the eagle, is our true national symbol."
Richard Martinez, the father of Chris Martinez, one of Rodger's victims, offered a similar assessment of America's predicament on Saturday. "When will this insanity stop?" he asked reporters. "Why did Chris die? Chris died because of craven, irresponsible politicians and the NRA. They talk about gun rights. What about Chris's right to live?"