 Rolf Harris has started giving evidence at London's Southwark Crown Court in his trial for alleged indecent assaults.
The 84-year-old veteran presenter began Tuesday's proceedings by providing details of his childhood in Australia.
Giving evidence for the first time in his indecent assault trial, he described the start of his career to jurors at Southwark Crown Court, including how he invented his well-known "wobble-board".
The entertainer said he got his break in television in 1953, despite an "appalling" audition.
Harris then gave details of his musical recordings, singing a section of his song Jake the Peg to the jury and demonstrating the sounds made by a didgeridoo and wobble board.
Describing how he came up with the idea for his famous "wobble board", Harris said he was trying to dry a piece of hardboard that he had painted and covered in turpentine, using an oil heater.
"I had no idea how much heat was coming out of this blessed thing - it was red hot," he said. "I tested it with my finger and it was like 'Argh', and a big blister came up on my finger.
"I thought it was going to catch light. I had it between my open arms and I shook it," he said, describing the noise it made when he did so.
"It seemed to have a rhythm so being a musician and an entertainer I started accenting the off-beat.
"It was just a wonderful sound, a loud sound. That became the wobble-board." Harris initially stood while giving evidence, but later chose to sit down in the witness box.
He outlined his various career successes, including the television programme Whirligig and hits Tie Me Kangaroo Down, Sport and Jake The Peg, which he sang to the court.
At times the entertainer was cut short by Ms Woodley, prompting him to say: "I'm sorry I'm waxing a bit too lyrical on all these answers, I'm sorry."
The veteran entertainer told the court how a woman who claims he indecently assaulted her appeared to "invite" him to touch her, behaving in a "flirtatious" and "coquettish" way.
The 84-year-old told Southwark Crown Court that he was flattered when the 18-year-old friend of his daughter started flirting with him, marking the start of a series of sexual encounters which left him feeling "general guilt" about their affair.
But Harris denied he indecently assaulted the girl, saying she was a willing participant in all of the intimate encounters, even instigating some.
He told the jury he is a "touchy feely" person and did hug his alleged victim - but not in a sexual way.
The girl has alleged she was around 15 when the incident happened, but Harris told the court he thought she was 18. The entertainer told jurors that the girl became "flirtatious", appearing to invite him into a sexual encounter.
He said: "I put the tea down on the bedside table and she grabbed my elbow and seemed to indicate that she wanted me to sit on the bed which I did.
"She slid over a little bit and then shook the duvet off her foot to reveal that her legs were bare, she had no pyjama pants on.
"And it seemed to me that she was being very flirtatious with me. As you can imagine, it was a very flattering feeling for this young lady to suddenly be showing an interest in me."
Harris said he touched the outside of the girl's leg, describing how his "heart was thumping".
"I didn't know what to do, I got up and left the room," he told the court.
"I left her there with the cup of tea and went out."
During questioning by his defence barrister, Sonia Woodley QC, Harris was asked: "(The alleged victim) has said that you hugged her and she found that creepy. Have you hugged (the alleged victim?).
Describing the encounter, the 84-year-old said: "I find it very hard to discuss this. It's highly embarrassing."
Asked why, he said: "A married man, a much younger girl, I shouldn't have been doing it."
Harris replied: "Yes, I have. I'm a very touchy-feely sort of person."
Ms Woodley asked: "In any sexual way or not?" "No," said Harris.
Asked by his barrister if it was difficult for him to recall events from 40 years ago - the period covering some of the allegations - Harris said: "I must say it's been very difficult."
The court has heard that the woman's father wrote to Harris confronting him about his alleged abuse - a letter that the star said he burnt immediately.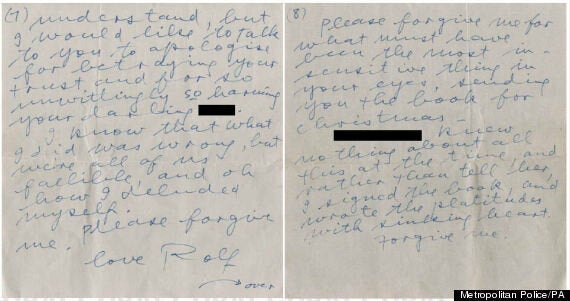 The trial also heard he sent this letter to an alleged's victim's father
Rolf said: "I felt that I had betrayed everybody....betrayed their trust."
Pressed by Ms Woodley on why he expressed his remorse in the letter, Harris's voice broke as he told jurors: "Because I'd had an affair with their daughter who was much younger than me.
"An extra-marital affair."
Asked to explain why his letter referred to the woman saying she had "always been terrified" by him, Harris said: "She didn't show that terror in any way, shape or form ever, no."
He continued: "I just was sickened by myself because I saw the state she was in."
Asked if he felt "responsible" for the chronic alcohol problem she had developed, the artist said: "I didn't but I sort of felt sickened by myself for being a part of it at all.
"We're all fallible. We're none of us infallible in this life. We might think that what we're doing at the time is maybe right, but maybe it isn't, and you delude yourself at the time that what you're doing is the right thing.
"I knew it was wrong. Here I was, much older than her. A very young lady who was many years my junior."
The jury has heard prosecution claims that Harris, from Bray, Berkshire, was a "Jekyll and Hyde" character whose fame allowed him to target under-age girls.
The entertainer told the court that he married wife Alwen - who watched from the public gallery with other family members - in 1958.
He said previous health issues included a stroke and heart problems, and he had been diagnosed with diabetes.
Asked about his drinking habits, Harris said he drank in a "perfunctory way" and would share a beer with his wife with a curry.
He denies 12 counts of indecent assault on girls aged seven or eight to 19.
Harris has insisted he had a consensual relationship with his daughter Bindi's best friend when she was an adult.
The incidents are alleged to have taken place between 1968 and 1986.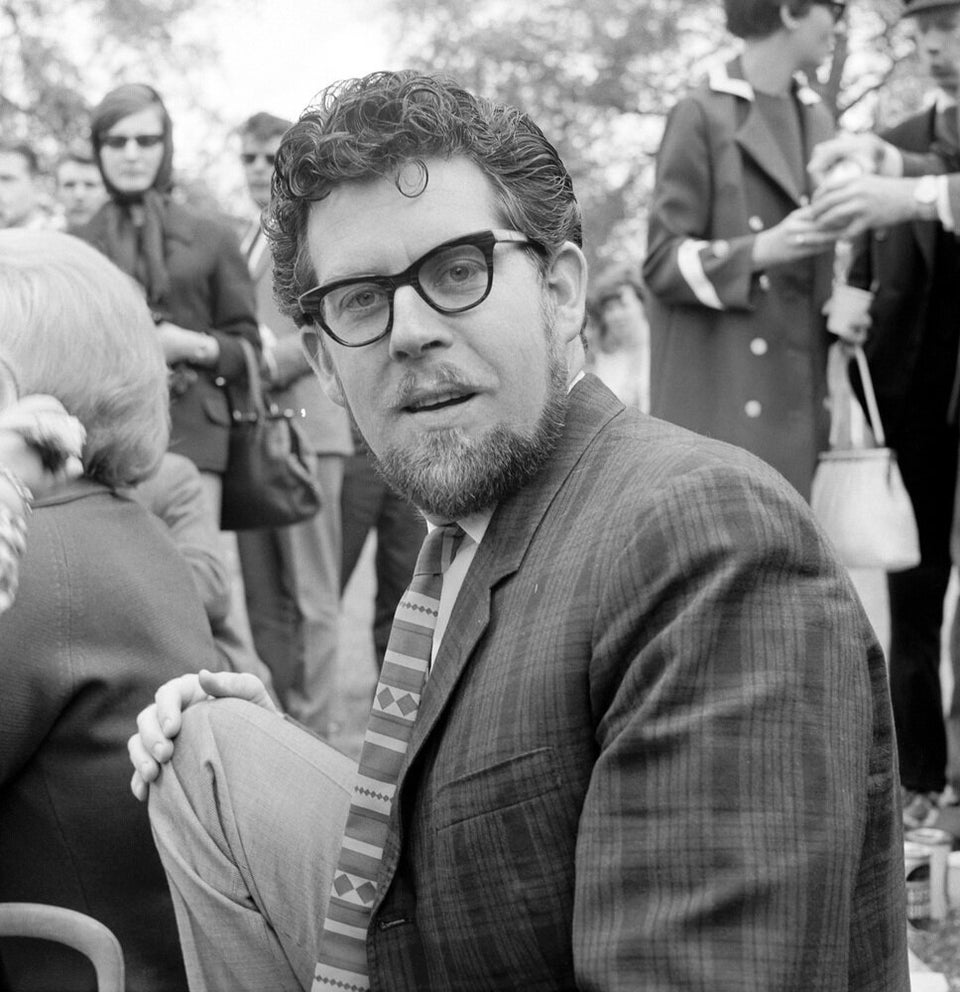 Rolf Harris through the ages