With Łukasz Fabiański set to head off, Arsenal need to find some competition for goalkeeper Wojciech Szczęsny and the competition could be Norwich City stopper John Ruddy.
Ruddy, a man wooden cakes mean so much to, is eager to remain in the Premier League after he missed out on a World Cup spot to Fraser Forster.
Despite his appearance, Ruddy is still only 27, although he experienced a torrid third successive season in the Premier League, having debuted auspiciously in 2011-12.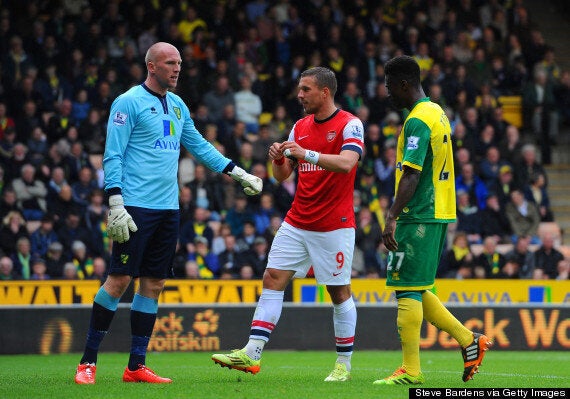 Ruddy could provide Szczęsny with competition in goal next season
Although Ruddy could be coming, Bacary Sagna is going. He has told teammates he is leaving north London after one trophy in seven years.
He's young, he's French, he can't stand the word "dench". It could catch on at the Emirates if Adrien Rabiot joins the Gunners.
The 19-year-old Paris Saint-Germain midfielder's way to the first-team at the Parc des Princes is blocked by the likes of Cabaye, Motta, Verratti and Matuidi (nicknamed "Cheryl"), however the Mail say Manchester United, Manchester City and Chelsea are also interested in the Parisian.
Harry Redknapp has admitted defeat in keeping Loïc Rémy, pining for an Arsenal transfer (or is he?), at QPR, add the Express.
Liverpool and Chelsea are also apparently keen on the 27-year-old French striker, who was a guest of Sagna's for Arsenal's final home game of the season with West Brom.
And eager to liven up the three-week close season until the World Cup starts, Arsène Wenger could bring Kim Kallström back to Arsenal after his successful spotkick in the FA Cup semi-final.
Popular in the Community