Resplendent in tribal headgear and body point, with bows and arrows held aloft, aiming their weapons at Brasilia's riot police, these indigenous protesters took on horse-mounted riot police armed with tear gas and shields.
These were the extraordinary scenes just hours before Brazil's World Cup team began their training for the tournament, as the índios attempted to force their way toward the capital's National Stadium, firing arrows and throwing rocks.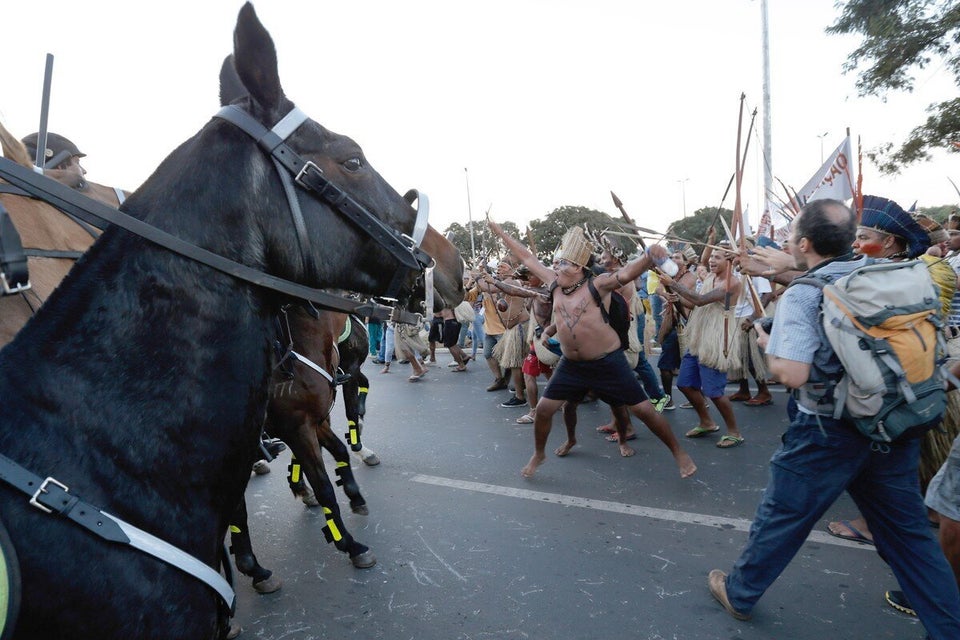 Brazil's Native Population Protests
The country has been no stranger to anti-World Cup demonstrations, from Brasilia, to Sao Paolo and Rio de Janeiro, from activists angry at the multi-billion cost of staging the tournament in a country where the poorest 34% receive less than 1.2% of the nation's income.
Brasilia's stadium will cost roughly three times the price tag first budgeted, approximately 1.9 billion reais (£500m), a report from city auditors said last week.
Though smaller than the million-strong protests that rocked the South American nation during 2013, never before have demonstrations taken on this colour, as activists were joined by 300 indigenous protesters who had been staging a separate sit-in at Congress demanding land rights.
The tribesmen are known for their Brasilia protests outside government buildings, but this is the first time they have joined the social change activists charge against the World Cup.
The protester who shot arrows at police has been arrested and detained. The newspaper Globo reported that at least two indigenous people were also injured.
In an attempt to cool inflamed tensions as kick-off draws closer, Brazil's President Dilma Rousseff has promised the Homeless Worker's movement that squatters in makeshift encampments around the stadiums will receive government housing.
But Brazil will call in troops to prevent protests disrupting football games and threatening fans' safety, she has warned.
Related