One of Rupert Murdoch's Australian newspapers has published a picture showing the Duchess of Cambridge's bare bottom, refusing to follow a "ridiculous" ban imposed by the British media.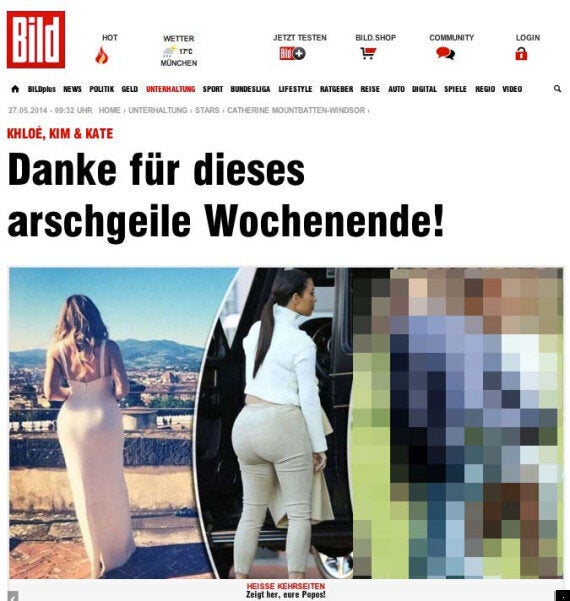 Controversy: An image of the Duchess of Cambridge's bottom appeared alongside images of Kim Kardashian and her sister Khloe in the German newspaper Bild
The initial publication of the picture of Kate's behind prompted an international outcry and has rekindled the debate about how to protect the privacy of the Royal couple.
The image shows the Duchess of Cambridge's blue and white summer dress lifted by a gust of wind when the royal couple got out of a helicopter in the Blue Mountains, 80 kilometers west of Sydney.
"It seems a bit ridiculous to expect the rest of the world's media to follow suit, particularly in a world in which flesh and commercialism go hand in hand," said Telegraph social writer Annette Sharp.
"If the Duchess can't be bothered protecting herself by having hem weights sewn into her garments, why should the media protect her?"
Even Sky News presenter Kay Burley has told the Duchess of Cambridge to buy a six-pack of big pants.
Discussing the controversy on Sky News with the channel's royal correspondent Paul Harrison, Burley chortled: "That's a very serious face that you've got talking about this story, isn't it?"
She later added: "Get yourself a six-pack of big pants, Kate. I mean, seriously."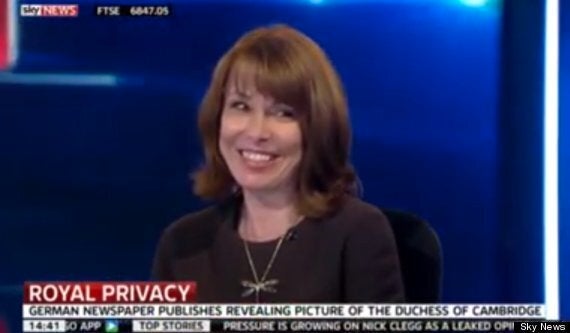 The Duke and Duchess of Cambridge have been dragged into a series of privacy rows with the foreign press in recent years after photographs were published of Kate in a bikini while she was pregnant, and topless while on honeymoon.
In February last year, Italian and Australian magazines published photographs of Kate with her bump on display while she walked along a beach on the secluded Caribbean island of Mustique.
In 2012, the Prince and Duchess launched a legal case against French magazine Closer that published topless shots of the Duchess taken while she was on holiday in Provence Chateaux. Clarence House releases a statement comparing that publication with the "worst excesses of the paparazzi during Diana's life."
The magazine's editor was unrepentant, saying the resort's pool was in full view of a public road and easily seen by the public. However, Chateau d'Autet has a secluded woodland setting, and is hundreds of metres from the closest public road – so the royals were in ''full view'' only as long as they were being viewed through a large telephoto lens.