Tube strikes, snow, more tube strikes, sweltering train carridges, or... a flooded path – for us intrepid Brits, nothing stands in our way when it comes to getting to work.
The capital's commuters have proven that a little bit of water wasn't about to dampen their spirits, as they scaled a wall outside Blackfriars station to avoid flooding.
The fearless Londoners were aided in their efforts by a gentleman in army-style camouflage clothing, who helped ferry their possessions to dry land.
The audacious scenes were captured by passers-by on Twitter:
Heavy rain across the east of England could cause flooding, forecasters have warned, while the wet weather that has hit London is set to ease towards the end of the week.
The Met Office has issued a yellow weather warning of rain for the east region, predicting localised flooding which could cause disruption to travel.
The persistent wet weather is expected to last until Wednesday night with up to 70mm of rain expected in worst-hit areas including parts of Lincolnshire, South Yorkshire and the Humber.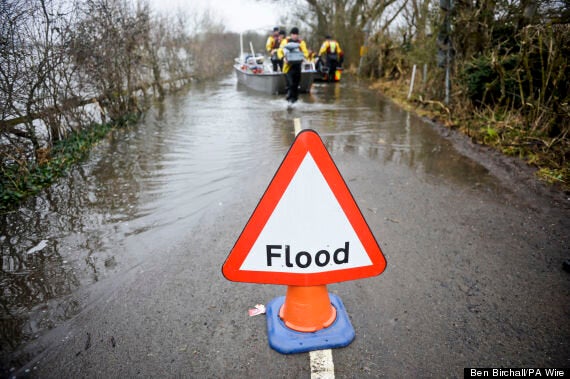 The Met Office has issued a flood warning ahead of 48 hours of wet weather on Wednesday
The Environment Agency (EA) also warned of a flood risk in the east, mainly from surface water and low lying rivers.
It said: "There may be some flooding of low-lying land and roads, some disruption to travel and possibly flooding to individual properties."
Meteo Group forecaster Gareth Harvey said: "An area of prolonged rain is moving up over the eastern region and it's not going to shift until Wednesday night.
"The rain is not exclusive to the east region but that's where the persistent and largest rainfall totals of between 50 and 70mms will be.
"Pretty much the whole of Great Britain will see rain at some point over the next 48 hours.
"This means there could be some localised flooding."
The EA has issued 10 low-level flood alerts in the South East and the Midlands, mainly warning of groundwater flooding close to rivers.
Popular in the Community