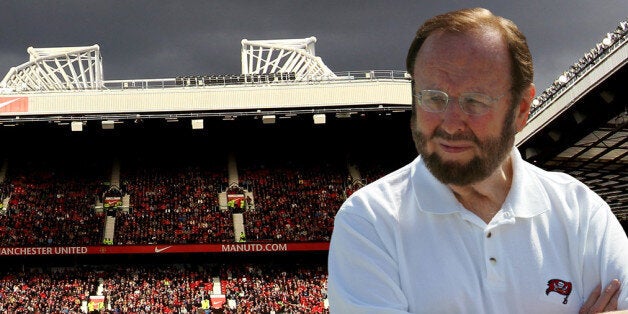 Malcolm Glazer, the Manchester United and Tampa Bay Buccaneers owner, has died at the age of 85.
Glazer died on Wednesday morning, a statement said. His death is unlikely to affect the running of United, since his family retain a 90% share.
United said: "The thoughts of everyone at United are with the Glazer family tonight."
Loathed by thousands of United supporters for fronting the hostile takeover of the club in 2005, Glazer never visited Manchester, instead delegating his children to run club affairs.
His sons Joel, Avram and Bryan Glazer, had to leave Old Trafford by police escort when they concluded the family's takeover nine years ago. The trio, along with Glazer's other children Darcie, Kevin and Edward, are on the United board.
Although United have won five Premier League titles, the Champions League and three League Cups during the Glazer era, the success has largely been in spite of the family, who have saddled the club with over £700 million of debt. The debt now stands at £351.7m.
United's current executive vice-chairman, Ed Woodward, advised Glazer and his family during prior to the takeover.
Glazer's ownership was so divisive some United supporters have not stepped foot back inside Old Trafford, while a faction of supporters used to chant "Die die Glazer" and "How we'll kill him I don't know, cut him up from head to toe, all I know is Glazer's gonna die." The Glazer takeover spawned breakaway club FC United of Manchester, owned and democratically run by its supporters.
Even Sir Alex Ferguson's legacy at United was, in some supporters' minds, blemished by his support for Glazer and his sons, whom he described as "brilliant owners".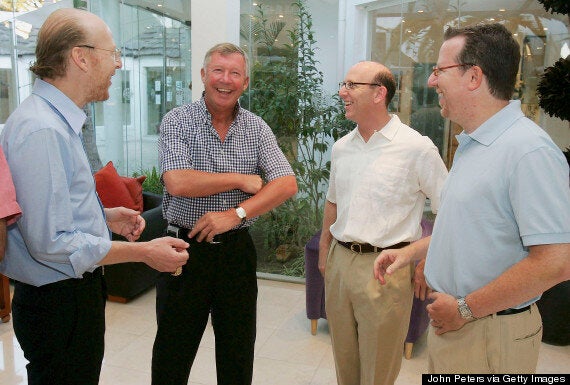 Ferguson with Glazer's sons Avram (left), Joel (second right) and Bryan, in 2005
When Real Madrid paid United £80m for Cristiano Ronaldo and Carlos Tévez ended his two-year loan in 2009, Ferguson only bought Antonio Valencia, Michael Owen and Gabriel Obertan at a combined cost of £19.5m. United's FA Cup third round defeat to Leeds United later that season infuriated supporters suspicious the Glazers had prevented United from competing in the transfer market.
Subsequently, militant supporters began the green and gold protest - colours which symbolised the club's Newton Heath heritage - following the Glazers' bond issue in January 2010.
The Glazers raised £504m, which was partly used to repay the onerous hedge fund loans they had taken out to buy the club. United's green and gold campaign, which began with the 4-0 win against Hull City, gathered momentum until the final day of the season.
United finished second to Chelsea, yet spent £24m re-strengthening on the Fulham rookie Chris Smalling, Mexican striker Javier Hernández and the one-time vagrant Bébé. It was testament to Ferguson's managerial genius United regained the title by nine points.
The lowest United ever finished under the Glazers when Ferguson was manager was second. The last time that happened, in 2012, United floated on the New York Stock Exchange later that year.
Perhaps the biggest business boost Glazer and his family have generated at United is the commercial income. United now boast 35 sponsors, from an official noodles partner to an official tyre partner.
The club's kit deal with Nike expires in 2015, and the renewal - or deal with a new kit manufacturer - will almost certainly be a club record.
However, the sacking of David Moyes and a seventh-place finish in the Premier League table means United are braced for a season without European football since English clubs' five-year ban over the Heysel disaster. New coach Louis van Gaal will take over the managerial reins once his international commitments with the Holland national team are completed at the World Cup.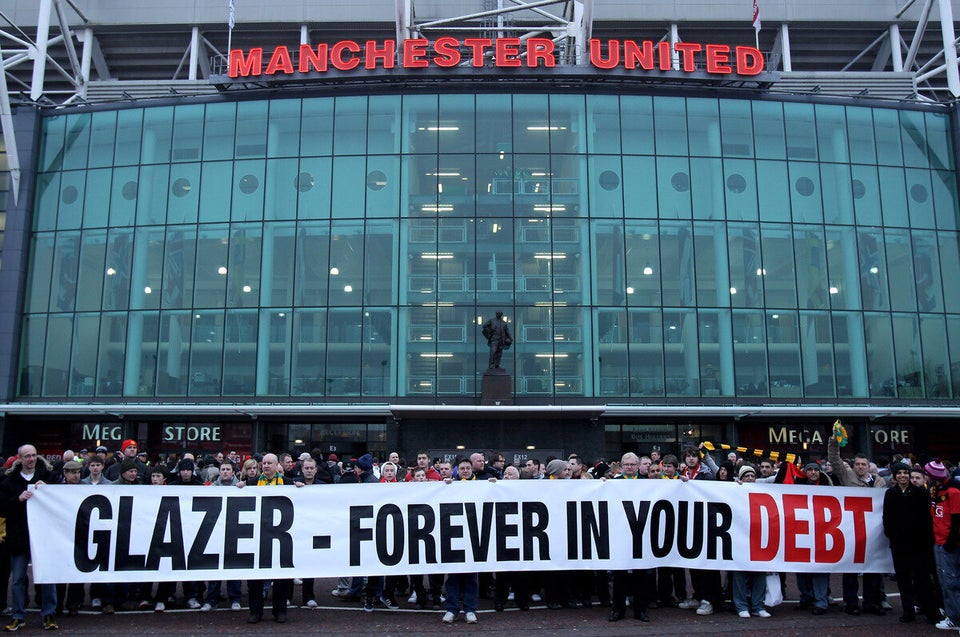 United's anti-Glazer protests