Fast-forward 13 months and checking passports is far behind him. Now Chris, known to his clients as 'Mr Cake', is doing what he loves most - creating culinary masterpieces for his own successful cake business and spending time with his young family (wife, Emma, and their one-year-old son, Ben).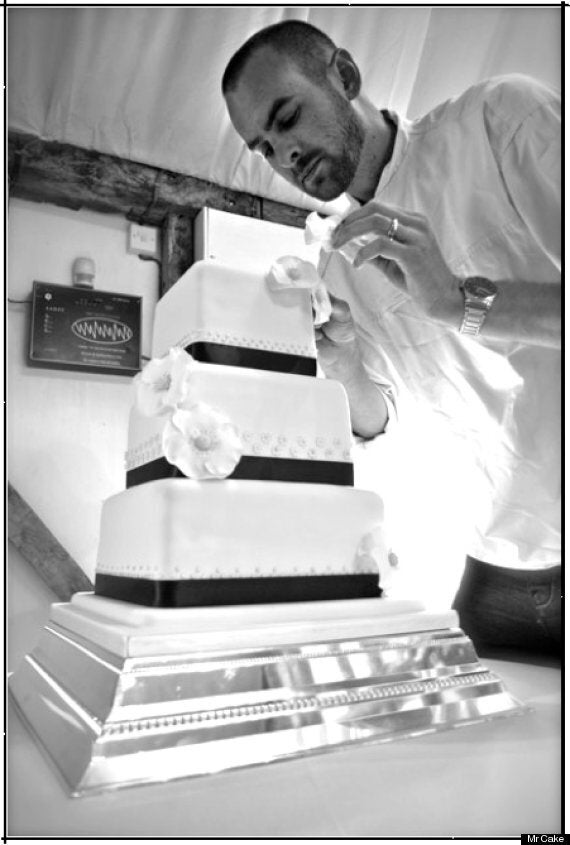 But if you think that a man who rebrands himself 'Mr Cake' would be a sugar fanatic who spends his days licking icing off of wooden spoons, you'll be sadly mistaken.
"I haven't really got a sweet tooth," he reveals. "You've got to taste the food to get the flavour right, but I only sample the tip of the teaspoon."
He adds: "I'm selling everything so it doesn't make sense to snack on it!"
A logical business decision. But then, Chris isn't one to take financial risks.
Despite famously leaving his airport job to pursue his dreams in April 2013, the resignation was far from rash.
Mr Cake - which he'd been running, part-time, for almost three years - had a steady stream of business and, as Chris hastens to add, you don't need a bank loan to set up a small-scale cake business.
Starting with an office in the spare bedroom and "a few fancy baking bits", he set up Mr Cake for a few hundred pounds.
Chris says he always knew he wanted to work with food. But after a stint in his 20s working as a pastry chef in a Michelin-starred restaurant, the long, unsociable hours took their toll and he moved to a 9-5 job in the civil service.
It was only after meeting (and later marrying) Emma that he began to set his sights on a career in food once more.
In fact - cue collective 'aww' - he credits his wife as his main source of inspiration and very own in-house support network.
"Emma always been really supportive of my decisions, but has never pushed me to do anything," he says. "I hated my job and happiness is really important to her - to us - it affects the whole family."
"I actually baked our wedding cake... and it turned out alright," he says, modestly. "And that made me realise that setting up a business was possible."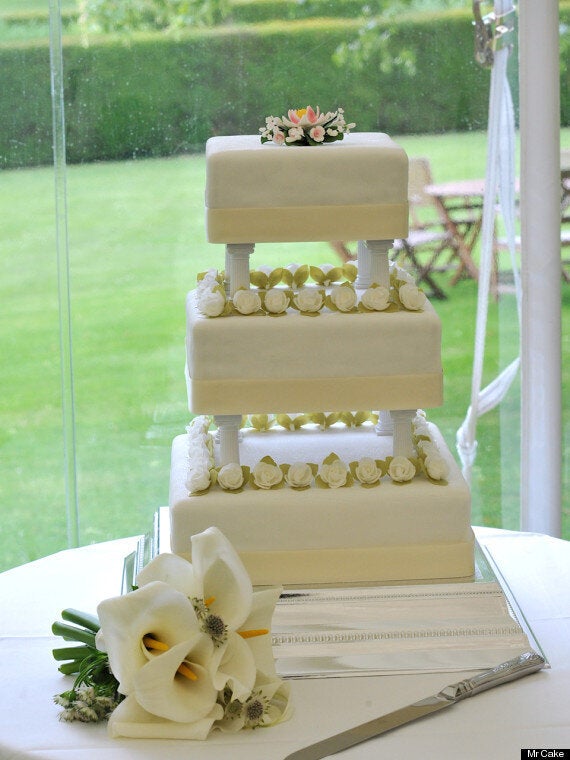 'It turned out alright'... not bad for someone who is just starting out!
But it wasn't until their son was born that Chris felt ready to take a leap and go into the cake business full-time.
"When Ben came along I started working from home. Cakes are a low-risk product in food safety terms, so it makes sense to run the business from there.
"Emma and I share parental responsibility, working four days each. I work from Thursday to Sunday - as this is my busiest time, between wedding orders and parties - we have a child minder on Thursday, and then Emma has Ben for the rest of the week."
Now he spends his days working from the office in the garden of their modest terrace home or creating monkeys out of sugar paste from his kitchen. A variety you wouldn't get at passport control.
"It's turned out quite well. There is a creative and artistic element to baking that I wouldn't get with dinner parties," he says.
Although Chris is now a fully-fledged businessman, his attitude to working is like a breath of fresh air. Rather than focussing on profit and expansion, his priorities are deeply-rooted in his family's happiness.
"People seem to think I'm taking over the world with cake, because of the resignation stunt," he laughs.
"I'm not living on a super yacht but that was never the plan. I only wanted to be my own boss, make enough money to pay the bills and be happy."
Although he didn't expect his resignation cake - which was a passion cake with carrots and nuts, since you asked - to go viral, he admits it has helped the steady stream of business.
"I'm booked up quite far in advance, which is all I could ask for really," he says.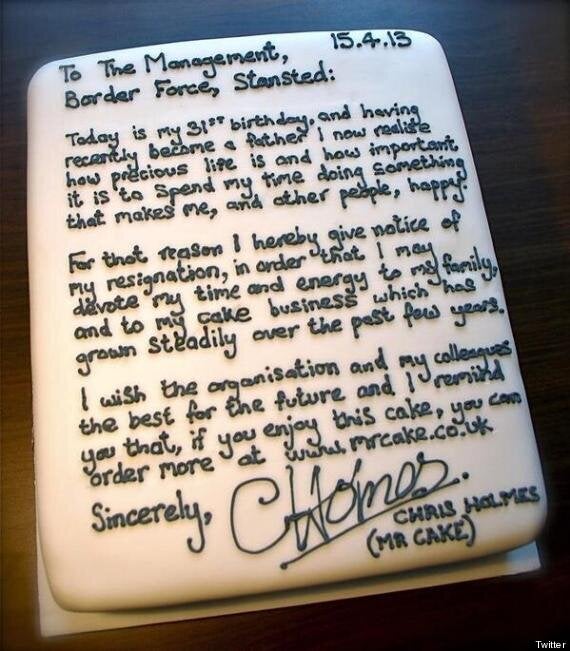 So, it's fair to say, the young businessman has no regrets.
"I'd advise anyone who isn't happy in their job to do something about it. Don't be reckless with your decisions, but rest assured that if you plan carefully, you can get to a better place. Just go for it."
"When setting up a business, it's important to be disciplined. There is always the temptation finish early and take long tea breaks, but you have to resist. I'd cooked for many years, but when it came to running a business I had to learn from scratch."