WARNING - THIS REPORT CONTAINS GRAPHIC IMAGES
A pregnant 25-year-old was stoned to death by her own family in a so-called "honour" killing for marrying the man she loved, police said.
She had been engaged to her cousin but married Mohammad Iqbal instead, senior police officer Umer Cheema said.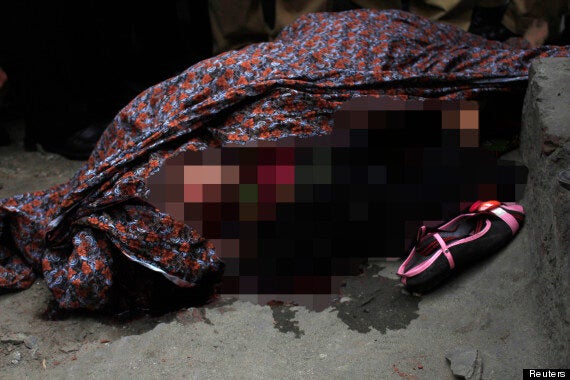 The body of Farzana Iqbal lies outside the High Court in Lahore
Her family had filed a kidnapping case against him, prompting Iqbal, who was three-months-pregnant, to attend the court to argue she had married of her own free will.
Iqbal's father, two brothers and former fiancé are reported to have been among the attackers. Allegedly all but her father fled the scene.
Iqbal died of head injuries after being struck repeatedly with bricks retrieved from a nearby construction site. Relatives weep over the death of Iqbal, who was three months pregnant
Police spokesman Rana Akhat told AFP some 28 to 30 people attacked Iqbal.
She added: "The brother first opened fire with a gun but missed. She tried to run away but fell down.
"The relatives caught her and beat her to death with bricks."
The Human Rights Commission of Pakistan said that in 2011, 943 women were killed for apparently causing shame to their families, the Telegraph reported. Iqbal's father has confessed to taking part in the killing, police say
The figure is an increase of more than 100 in 2010.
Noor Basra and Noor Sheza, aged 15 and 16, died in July when five masked men burst into their home in the northern Pakistan region of Gilgit and began firing. Their mother Noshehra was also killed in the attack.
Police believe the girls' stepbrother Khutore interpreted the video as "an assault on the honour of his family" and tried to "restore the family's honour" by killing them.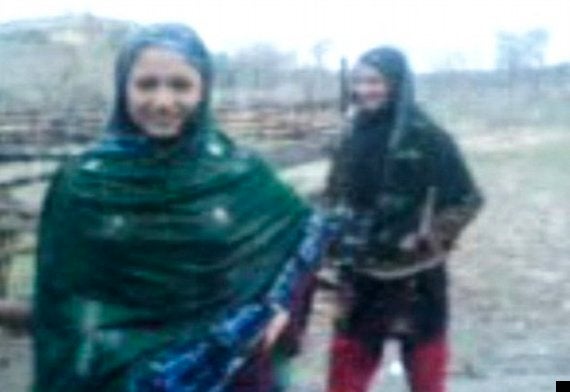 Noor Basra and Noor Sheza, aged 15 and 16 were filmed enjoying a rain shower outside their Gilgit home in Pakistan
In 2012 a Pakistani couple admitted killing their 15-year-old daughter because she "looked at a boy".
The girl's father told the BBC they flung acid at her because they feared her act would bring dishonour on the family.
He said: "There was a boy who came by on a motorcycle. She (Anusha) turned to look at him twice. I told her not to do that, it's wrong."
Her mother recounted: "She said 'I didn't do it on purpose. I won't look again'. By then I had already thrown the acid. It was her destiny to die this way."
Related