The father of one of the victims of British-born gunman Elliot Rodger has made a heartbreaking plea with politicians to take action on gun control as the dead were honoured at an emotional memorial service.
Christopher Michael-Martinez was one of six students killed by Rodger during a gun and knife massacre near Santa Barbara, California on Friday evening.
Mr Martinez's father Richard brought students to tears - and ultimately to their feet - as he begged politicians to do something about the issue in a tribute to his son. Addressing thousands of mourners at Harder Stadium on the university campus, Mr Martinez, almost overcome with a grief, said: "There haven't been any leaders on this issue. Yesterday I got a call from a congressperson to express their condolences for what had happened.
"I told that person I was not interested in a phone call of condolence; that was not acceptable, until they went back to Congress and did something.
"They have done nothing and that is why Chris died. This situation has gone on far too long, we all know it." He added: "How many more people are going to have to die in this situation before this problem gets solved, it has almost become a normal thing for us to accept this. It's not normal. "Any of us who grew up in the 1940s, 50s or 60s know that life doesn't have to be like this so why should it be like this for you people who are young now? It is just intolerable."
Mr Martinez was met with a standing ovation as he led the crowd in chants of "not one more" and encouraged people to send postcards bearing the same words to every politician they could think of and create "not one more" hashtags on social media. The first three victims killed in the spree on Friday night were stabbed in Rodger's own apartment.
They were UCSB students Cheng Yuan Hong, 20, 19-year-old George Chen and Weihan Wang, 20, the Santa Barbara sheriff's department said.
Mr Hong and Mr Chen were Rodger's room-mates, while Mr Wang was visiting for the evening.
Sorority sisters Katherine Cooper, 22, and Veronika Weiss, 19, were shot outside the nearby Alpha Phi sorority house.
Mr Martinez, 20, was shot at a nearby delicatessen. 'Virgin killer' Elliot Rodger
His father has previously blamed "craven, irresponsible politicians and the NRA (National Rifle Association)" for his son's death, adding: "They talk about gun rights, what about Chris's right to live?"
Earlier in the ceremony, Janet Napolitano, president of the University of California, spoke of her anguish that such an event had to happen.
She said: "I wish I were not here for a day of mourning and reflection, none of us wants to be here for an occasion like this, but we are.
"We are here in this moment of loss because there is a human desire to reach out together for love and support. We want to share memories of the lives struck down far too soon."
Rodger's parents desperately searched for him as he carried out the attacks after they received his chilling manifesto outlining his plans to kill, it has emerged.
They heard the news of his bloody rampage on the radio as they were racing to Santa Barbara after his mother saw his online threats.
The manifesto details his rejection by women and his fury at men who find it easy to attract the opposite sex. It also chronicles his distress about his height, appearance and his parents' divorce.
In an online video entitled "Retribution", Rodger, who was born in London, spoke of his plan to "slaughter" women at "the hottest sorority" at the university.
On the way to the seaside town they heard there was a shooting and later that night, they found out their son was behind the violence, a family friend said.
The shootings began at 9.30pm local time on Friday, minutes after Rodger's mother read the manifesto.
Rodger, who had Asperger's syndrome, was found dead in his black BMW with a gunshot wound and three 9mm semi-automatic guns and more than 400 rounds of unused ammunition.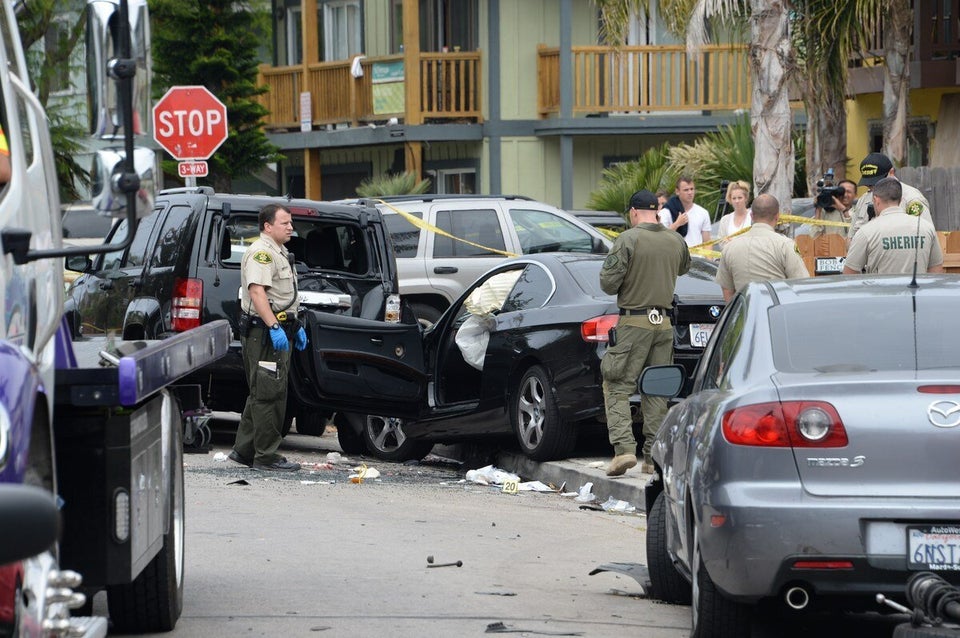 Santa Barbara Shooting
Meanwhile a model who Rodger blamed in the manifesto for his hatred of women is "devastated" that she has been linked to the massacre, her father said.
John Moio, a stunt actor from California, told the MailOnline, that his daughter Monette can barely remember Rodger.
"She was 10-years-old for God's sake - she can barely remember the guy," he said.
"He's a sociopath. She hasn't seen him since school.
"She's devastated over the whole thing. It's like she's being implicated in this terrible tragedy for something she hasn't done and can't remember."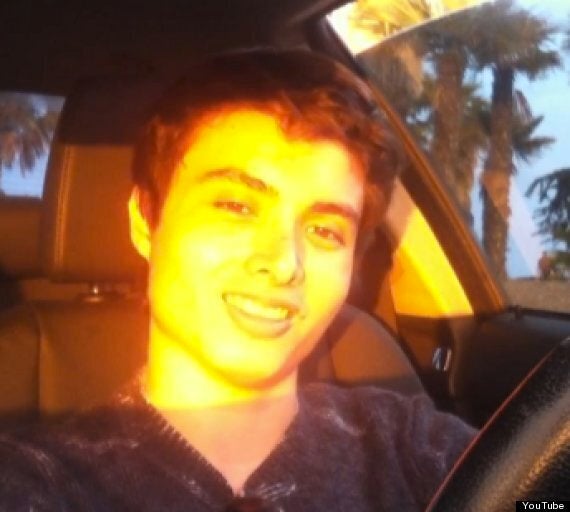 Elliot Rodger is believed to have shot himself after killing six people
The Rodger family's lawyer, Alan Shifman, revealed that they called police several weeks ago after being alarmed that the future killer had uploaded several YouTube videos "regarding suicide and the killing of people".
Police interviewed him at his home but found him to be a "perfectly polite, kind and wonderful human", Mr Shifman said.
Mr Shifman said Rodger had received help from "multiple therapists", and added his social worker was sufficiently concerned about him to call the police.
Santa Barbara County Sheriff Bill Brown revealed that the three guns found in Rodger's car - two Sig Sauer P226 handguns and a Glock 34 Long Slide - were legally bought from licensed firearms dealers and were registered in his name.