Vicky's 15-month-old son Oliver-James absolutely loves drawing. But coloured felt-tips and paper for him to scribble with are beyond the budget of his family. "I want to encourage him to do arts and crafts because I think the creativity will help develop him intellectually and socially. But buying pens and paper is taking money out of a pot that we haven't got," his mother says.
Oliver-James is just one child of the record five million who could be trapped in poverty by 2020, according to new research by Save the Children.
Food prices are increasing by 19% more than the general price level of other goods between 2007 and 2011.
Soaring childcare costs have seen the price of nursery places for children under two rise by 77% in 10 years since 2003.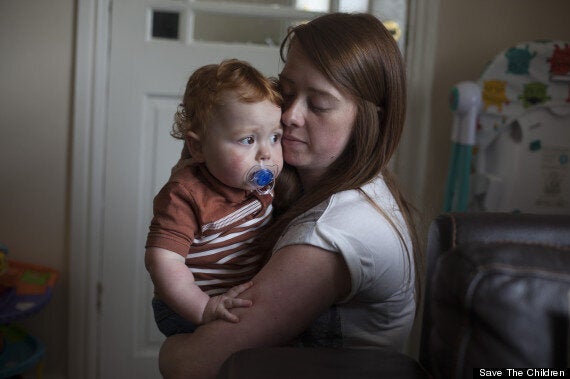 Vicky, 23, with her baby son Oliver-James
It is something that Vicky, 23, who lives with her factory-worker husband Simon, 26, know too well when it comes to feeding and caring for their son.
Before Oliver-James was born Victoria was working full-time, but there was no work for her after maternity leave and she couldn't claim jobseekers' allowance because she didn't have enough contributions. "We do heavily rely on the working tax credits. Even if they dropped a tenner it's a massive impact on us because we then have to find that money.
"When we first looked into me going back to work, we worked out that if I went back 20 hours, then working tax credits would help us by paying 75% of our childcare but if I went back full time then I wouldn't get as much money from working tax credits so more of my wages would be used for childcare. So the more hours I do, the less money we'd actually receive.
"Before, when we were just a couple, we could manage on between £30 and £50 a week [for food] but now we've gone to £80 to £100," she added.
"When it comes to dinners we tend to take a step back and just eat sandwiches or toast or just a bowl of cereal rather than having a full meal."
Save the Children chief executive Justin Forsyth said: "We're increasingly worried that unless there is a dramatic change of course, we're at risk of writing off the future of millions of British children, giving them an unfair start in life.
"This isn't just a question of statistics, we see families through our programmes around the UK who are really struggling.
"Millions of children in the UK are being left behind - sentenced to a lifetime of poverty. Far too many of our children are living in cold and damp homes, without healthy food, with parents who can see no end to their situation.
"If we ignore the rising toll of poverty, we are blighting the future of a further 1.4 million children. In one of the world's richest countries there is simply no excuse."
The charity's estimate is based on work by Landman Economics adding projected future social security cuts, as committed to by all three major parties, to existing Institute of Fiscal Studies estimates.
No party is setting out a viable strategy to achieve the commitments of the Child Poverty Act, or to really help families like Oliver-James', the report said.
"The current all-party commitments to social security cuts in the next parliament combined with underlying labour market trends and inflation mean no party has a coherent plan to avoid this crisis," Forsyth added.
"Our political class is sleepwalking towards the highest levels of child poverty since records began while promising to eradicate it completely. It's time our politicians face the scale of the crisis head-on and each party set out a concrete plan to get us back on track ahead of the general election."
"I don't think of us as destitute and living in poverty but we don't have enough money and when things go wrong we rely on friends and family or on help like Save the Children," Vicky said. "I think we are at a disadvantage because we don't have enough money for anything more than the basics. If we run out then anything below the basics is scary. I can see how that would happen."
The charity is calling for every child to have access to high-quality and affordable childcare, a minimum income guarantee for families with children under five, and a national mission for all children to be reading well by the time they are 11 years old.
A Government spokesman said: "The Government is committed to ending child poverty by tackling its root causes as part of our long-term economic plan. Our reforms will improve the lives of some of the poorest families in our communities by promoting work and helping people to lift themselves out of poverty."
He added that a rise in employment means 100,000 fewer children are living in "workless poor families", while the new Universal Credit benefit system will "make around three million households better off and lift up to 300,000 children out of poverty".
Some names have been changed