Muslim groups in the country are proposing a boycott of all the chocolate-makers products after traces of pork were found in two varieties of Dairy Milk.
Porcine DNA was detected during a routine check of Cadbury Dairy Milk Hazelnut and Cadbury Dairy Milk Roast Almond. Both are listed as halal on the company website. It made front pages across the Muslim nation earlier in the week, and the government has promised to investigate.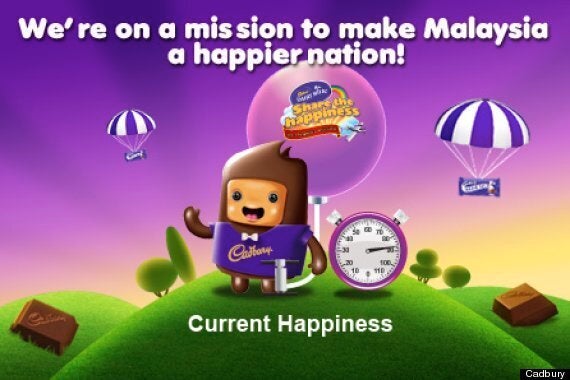 This is not going well...
The British-based confectioner recalled Dairy Milk bars across the nation and said it was working with the Islamic Affairs Department to ensure products comply with halal guidelines, but the gesture did not pacify some Islamic retailers.
One consortium it was pulling all Cadbury products from 800 stores, along with products from Kraft, the owner of Cadbury.
Bazeer Ahmad, of the Malaysian Muslim Wholesalers and Retailers Association told the BBC: "Although only two products were listed as contaminated, since the same mechanism is used to produce other products, doubt exists in our minds that all products could be exposed to the same contamination."
Muslim consumer rights bodies are calling for a full boycott across the nation.
"This will teach all companies in Malaysia to maintain and protect the sensitivities of Malaysians," Sheik Abdul Kareem Khadaied, of the Muslim Consumers Association Malaysia, told reporters in Kuala Lumpur.
Abu Bakar Yahya, chief of Muslim group, Perkasa Selangor, said at the conference that Cadbury's have "betrayed us Muslims by putting 'haram' elements through the foods we consume in our body, to weaken us Muslims."
An activist group, Jaringan Melayu Malaysia (JMM) has said it plans to sue Cadbury's for more than £18m (RM100million).
"For the Muslim community in Malaysia, it is a terrible insult of all, a very nasty fraud and should be made a lesson to any company that deliberately want to destroy Muslims," said the group's president Azwanddin Hamzah, who said he had been distraught because he has previously given the chocolate to his children.
We have received 700 emails from people stating their support for us to take legal action against Cadbury," Hamzah continued.
"We also received complaints from more than 50 individuals with receipts and other proof that they have bought the two products that allegedly contained porcine DNA," he said.
In a statement, Cadbury's said it had taken "immediate action by recalling the products from the above two batches. No other Cadbury chocolates are affected by this test.
"We would like to reassure our consumers that all Cadbury Chocolates manufactured in Malaysia are halal-certified by JAKIM," it added, the Malay acronym of the Malaysian Department of Islamic Development.
Popular in the Community