Two of the world's most beautiful people - we're talking Zayn Malik and Gigi Hadid - have teamed up for what is undoubtedly one of the sexiest music videos we've seen in a long time.
Although Zayn had previously teased that his debut solo single 'Pillowtalk' would be dropping on Friday morning, what he hadn't revealed was that it would be accompanied by the music video, which also stars his new supermodel girlfriend, Gigi Hadid.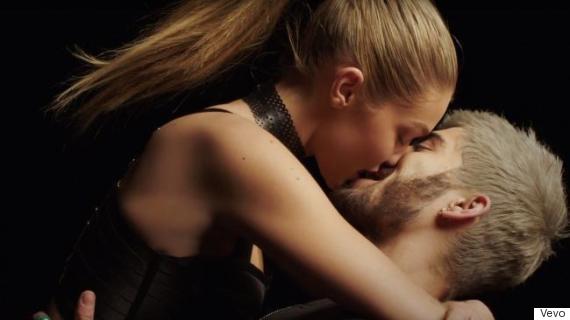 Gigi and Zayn in the 'Pillowtalk' video
Their raunchy collaborative effort got us to thinking about past music videos that have set tongues wagging for their onscreen partnerships, whether it's the likes of Jay Z and Beyoncé, a married couple in real life giving fans a glimpse of what goes on behind closed doors, or stars like Calvin Harris and Ellie Goulding, cosying up together in the video for their single 'I Need Your Love', and getting us all wondering "were they or weren't they..?" in the process (though, as it turned out, disappointingly, they were not).
We've rounded up some of the pairings who we think are the hottest couples - real or just onscreen - in music video history. See if your favourites have made the list...
LIKE US ON FACEBOOK | FOLLOW US ON TWITTER