The pair, 12-year-old Murti Lal and 14-year-old Pushapa had been accompanied by a cousin, who was threatened when he attempted to save them.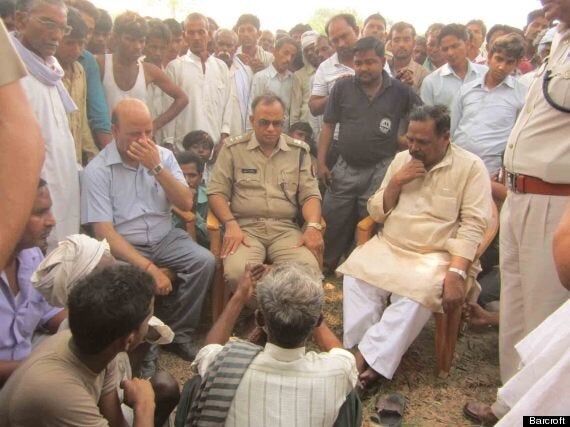 Families of the victims refused to let police cut down the hanging bodies of the teens until two policemen were arrested
Realising his daughter and niece had been abducted, the 45-year-old agricultural labourer said the family went to the police after the cousin raised the alarm, but officers "took the side of the culprits" and refused.
"My daughter could have been saved had the police acted on time but they completely failed us and I have no faith in this system," he said. "Look at this, the accused have got all the police protection and here I am, the victim, and have been left in the lurch. Is this justice? They killed our daughters and are also defending the accused."
The girls were still alive while the police mocked the family and refused to search the house of one of the accused, Lal said. He claimed the officers came from the same caste as the accused in the traditional Indian system. His daughter and niece were members of a "lower" caste.
Angry silent protests surrounded the bodies of the girls found hanging from a mango tree in the field. Three people have been arrested, two of them police officers.
Locals refused to let the police cut down the bodies for an autopsy until the men were arrested.
It is the latest case of sexual violence against females to send shockwaves through India. In 2012, a gang of men raped a 23-year-old Delhi student who subsequently died of her injuries, a case that "shocked the collective consciousness of India", according to the judge who sentenced the perpetrators to death.
Dalit women, traditionally regarded as "untouchables" in India, have this month staged a protest at the rise of rape cases of Dalit women in Haryana, in front of residence of its chief minister.
Last month, the head of Uttar Pradesh's governing party told an election rally he opposed the death penalty for gang rapist because "boys will be boys, and they make mistakes."
That same month, a court in India had sentenced three men to hang after they were convicted of raping a photojournalist and a telephone operator in Mumbai. The 22-year-old photo intern had gone an abandoned textile mill with a male colleague on an assignment when she was attacked, with her companion badly beaten.