We're fed up with figuring out if the weather is going to get its act together, so in the meantime, we're holing ourselves up in our kitchens and churning out these gorgeous treats.
Adam Gray's Mini Carrot Cakes (makes 25)
Adam Gray's recipe for mini carrot cakes is really simple and a fantastic way to get kids into cooking, with very little supervision needed! Enjoy these tasty treats and a bit of time away from the chaos. Until the washing up, that is.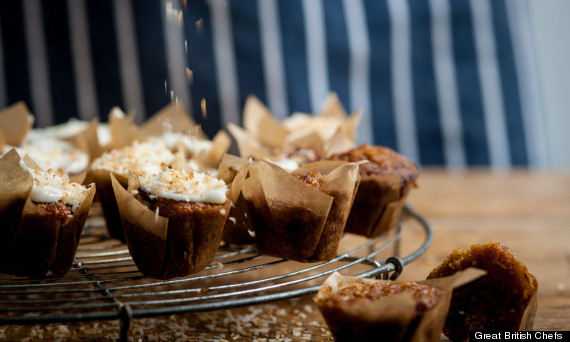 Cakes:
150ml of rapeseed oil
175g of golden caster sugar
100g of soft brown sugar
4 eggs
330g of self-raising flour
2 tsp of ground cinnamon
1 tsp of ground ginger
2 tsp of bicarbonate of soda
50g of desiccated coconut
225g of carrots, peeled and grated
Lemon and cream cheese icing:
1 lemon for zest
125g of low fat cream cheese, softened
150g of icing sugar
2 tbsp of lemon juice
To make the carrot cakes, whisk the oil, both sugars, and eggs in a food processor on a medium speed until smooth.
Turn the mixer down to a low speed and slowly add the flour, spices and bicarbonate of soda.
Mix the grated carrot and desiccated coconut into the cake mixture.
Preheat the oven to 180°C/gas mark 4
Line mini muffin tins with cupcake cases or use mini rubber muffin moulds. Spoon the mixture to fill ¾ of the cupcake case. Bake for 8-10 minutes until golden brown.
To make the icing, beat the cream cheese in a large bowl until smooth. Add the icing sugar, lemon zest and lemon juice, beat until smooth.
Remove the muffins from the oven and let them cool. Then spread or pipe the icing on top of the mini carrot cakes.
Recipe courtesy of Great British Chefs. Visit the site for more recipes to cook with kids.
Anna Hansen's Hazelnut & Tonka Bean Scones With Strawberries & Clotted Cream (serves 6)
With summer fast approaching and the strawberry season upon us why not combine to British favourites- scones and strawberries? Anna Hansen updates this humble classic using the fashionable and exotic tonka bean. Set alongside the traditional cream and strawberries, this tea time classic has had a revamp.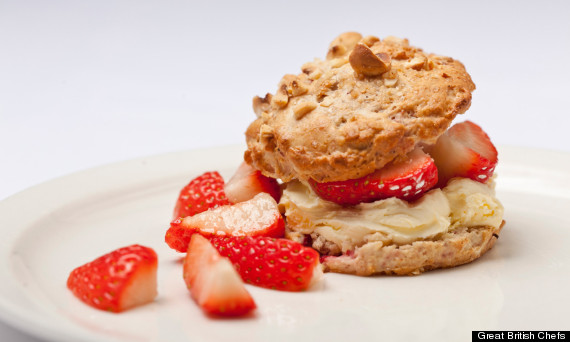 250g hazelnuts, peeled
1 punnet strawberries
1 tbsp vanilla sugar, or icing sugar
1 1/4 tsp ground tonka bean
400g self-raising flour
1/2 tsp baking powder
1/2 tsp salt
80g caster sugar
80g butter, cold, diced
300ml double cream
1 dash milk
1 tbsp Demerara sugar
clotted cream
Preheat the oven to 220°C/gas mark 8. Rinse the strawberries, hull and cut into quarters lengthways (or into eighths if large). Add the vanilla/icing sugar and ¼ of a teaspoon of ground tonka bean. Mix well and set aside. This will form the cold strawberry compote.
Roughly chop 50g of the hazelnuts and set to one side. Toast the remaining 200g of hazelnuts in the oven until they have just started to colour and roughly chop.
Sift the salt, flour, baking powder, remaining teaspoon of ground tonka bean and caster sugar together in a large mixing bowl then transfer to a food processor.
After adding the butter, pulse until the mixture has the consistency of fine crumbs. Return to the mixing bowl, add the 200g of toasted hazelnuts and gently mix. Lastly add the cream and mix once more to form a dough, being careful not to overwork.
Lightly flour a work surface, place the dough on to it and flatten to roughly 2.5cm. Use a knife/pastry cutter to cut into 12 squares and transfer to a baking sheet. Brush the top of the scones with a bit of milk and sprinkle with the 50g of untoasted hazelnuts and Demerara sugar.
Bake for 10 to 12 minutes until golden brown. Serve whilst still warm with lashings of clotted cream and the strawberry compote.
Recipe courtesy of Great British Chefs. Visit the site for more great baking recipes.
Galton Blackiston's Raspberry and Vanilla Macaroons with Vanilla Ice Cream (serves 8)
Galton's recipe for raspberry and vanilla macaroons is a really delicious way to make something impressive this spring. They look beautiful once created and decorated with fresh raspberries.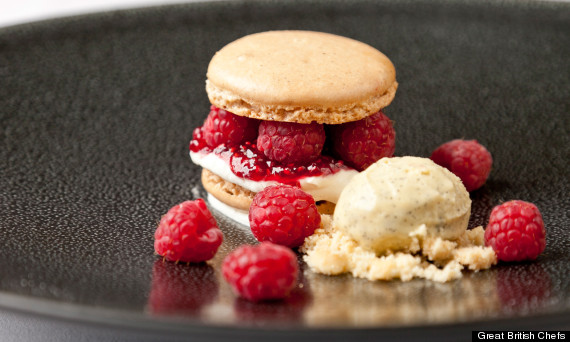 Vanilla ice cream:
525ml of milk
225ml of cream
10 egg yolks
225g of caster sugar
2 vanilla pods, split lengthways
Vanilla macaroons
4 egg whites
25g of caster sugar
225g of icing sugar
125g of ground almonds
1 vanilla pod, seeds scraped out and reserved
1 punnet of raspberries
8 tsp of raspberry jam
80ml of cream, semi-whipped
To make the vanilla ice cream, place the cream, milk and split vanilla pods in a large pan. Bring slowly to the boil, stirring frequently.
In the meantime, combine the egg yolks and caster sugar in a bowl and whisk well until lightly golden.
When the cream mixture has come up to the boil, immediately pour over the egg yolk and sugar mixture and whisk together.
Strain the custard back into the pan and slowly heat until the custard thickens enough to coat the back of a spoon – do not heat too much as this will cause the custard to split.
Strain again and pour into a bowl, leave to cool completely before churning in an ice cream maker until it reaches a soft, ice cream consistency. Freeze until ready to serve.
To make the macaroons, whisk the egg whites in a bowl until firm, mix in the caster sugar gradually. Once firm, fold in the ground almonds, icing sugar and the seeds from the vanilla pod.
Preheat the oven to 210°C/gas mark 7 and line a baking tray with greaseproof paper.
After spooning the macaroon mixture into a piping bag with a plain nozzle, pipe small discs onto the baking tray, (roughly the size of a medium-sized coin) allowing room for them to spread. Put the tray in the oven and cook for 5 minutes/until the macaroons start to brown. Turn the oven off but allow the macaroons to rest inside for 30 minutes.
Spread layers of semi-whipped cream, raspberry jam and fresh raspberries on the flat side of a macaroon then top with another to make a sandwich. Repeat with the rest of the macaroons and filling and serve with the vanilla ice cream.
Recipe courtesy of Great British Chefs. Visit their site for more macaroon recipes.