"Human beings can duck and dive, we can all make something out of nothing, and some of the best food has come from financially-challenged areas," says Jamie Oliver, whose second series of 'Money-Saving Meals' starts tonight on Channel 4.
"But no money and no education, that's dangerous."
So Jamie spells out his mission, playing what he calls his "little part" in tackling one of the biggest health problems of our era - diet-related disease.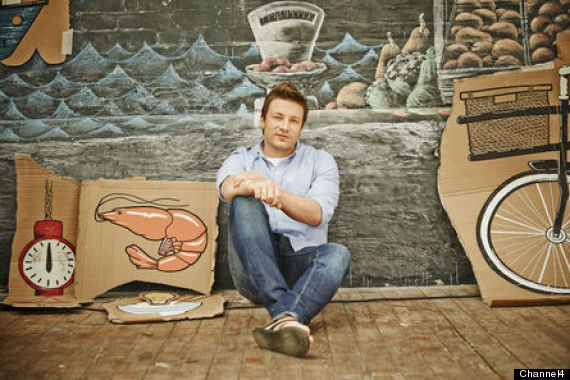 Jamie is convinced that money, or lack of it, needn't get in the way of creating a good, healthy meal
"I basically got told to make this programme on social media," he explains. "My remit is to take the average price of a Big Mac meal, and divide it by three - approximately £1.50 per portion. It's a nice remit - look at the best fish, the pasta, the meats, and make something decent."
Since Jamie burst onto the scene over a decade ago as the fresh face of British cuise via the River Cafe, he's become increasingly political with his pots and pans.
Despite his cluster of showbiz pals - everyone from Jay Kay to his Big Feastival co-host Alex James - it's clear speaking to him today that this has always been with him, from his childhood in an Essex village pub (he still calls his mother's Sunday Roast his all-time favourite meal, complete with toffee pudding).
"It was a proper, old-fashioned pub. You're serving everyone from the young whipper snappers to OAPs coming in for a malt whisky and a cigar. I enjoyed everyone, and it's a reference point I've never forgotten - the realisation that community is really important."
Jamie is co-hosting the fourth year of Big Feastival, along with Blur-man turned cheesemaker Alex James. All the profits go to the Fifteen foundation, which puts brand new young chefs through Jamie's restaurant chain. "It''s a festival that's dear and person to us, a celebration of food and family," explains Jamie. "It costs £20,000 for each chef, so I have to keep fund-raising. Last year we put through four chefs. You think to yourself, 'God, I hope you're good.'"

Guests at this year's Big Feastival include Fatboy Slim, Kelis, Jamie Cullum, Del La Soul and Laura Mvula. Celebrity chefs include Gennaro Contaldo, Monica Galetti, Gizzi Erskine and Ashley Palmer Watts.
Even with his many hard-earned millions, it's hard to fault his efforts, even when they fall on deaf ears such as those in the States who initially poo-pooed his campaign to improve school dinners.
"I realise change is an enemy to communities," he reflects now. "I'd already been thrashed by the campaign in the UK, so I'd seen it before, I just had faith it would come good.
"In the end, my way in was via the church, and one pastor who took me under his wing. He was sick of burying people through easily-avoided ill health."
Of course, the other thing everyone needs alongside good food is good sleep, something Jamie has famously gone without much of for a very long time - three and a half hours used to be his average. It's an inconsistency he sheepishly admits.
"Sleep is when anything positive to your body happens," he agrees. "I've set some rules in place. I was in bed at 10pm last night,and slept through to six this morning. I've got earplugs and a brilliant pillow now."
The road to self-improvement continues for Jamie, who puts down any of his success to his interaction with the public.
"You never know what's going to happen," he says, reflecting on what he considers his unlikely success. "When you write a cook book, you realise very quickly who your boss is, and it's the public. Anything good I've done is because it was expected of me."
'Jamie's Money-Saving Meals' series 2 starts tonight Monday 2 June at 8.30pm.
'The Big Feastival' curated by Jamie Oliver and Alex James will be taking place 29 to 31 August 2014. More info here.
'Jamie's Money-Saving Meals' fits into our Culture of Kindness section - our Huffington Post UK page dedicated to all TV shows and films that have kindness at their core - that celebrate warmth and generosity between people, and give a voice to those we often overlook. See what other treasures we've found here...