Professor Green and his wife Millie Mackintosh have recreated John Lennon and Yoko Ono's iconic anti-war bed-in photograph to promote the launch of War Child's charity t-shirt.
The rapper and former 'Made In Chelsea' star can be seen wearing the design as they mirror the legendary singer and wife's famous picture from 1969.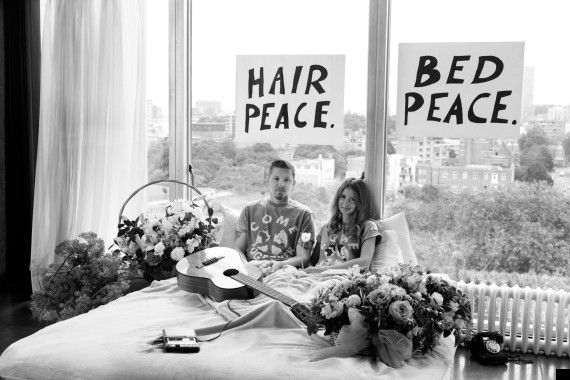 Professor Green and Millie Mackintosh are lending their support to the War Child charity
The late Beatle and Yoko staged their bed-in at Amsterdam's Hilton Hotel to promote world peace and speak out against the Vietnam war.
Pro Green and Millie's photograph reflects on-going issues still existing today, with profits from the Come Together t-shirt donated to War Child to support its work protecting the world's most vulnerable children from the brutal effects of war.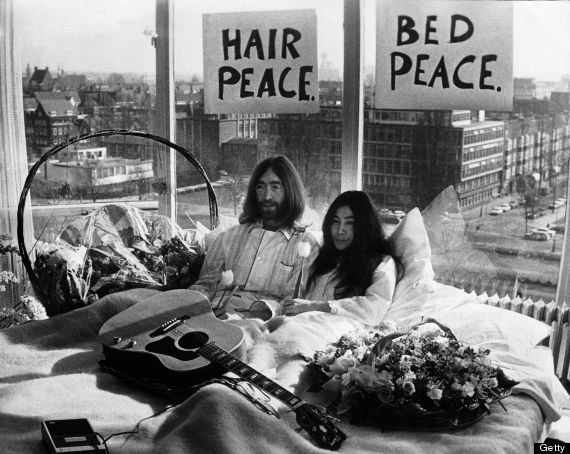 John Lennon and Yoko Ono during their bed-in in 1969
The 'Come Together' design, which will be available at River Island stores, is an exact replica of the t-shirt originally worn by John Lennon at Cannes Film Festival in 1971.
Speaking about the launch, Millie said: "It's an honour to be involved in this campaign.
"The original image is one that is moving to us all, and the work that War Child does is something that we can all be inspired by.
"On top of that, the t-shirt is gorgeous, so I hope everyone will get behind this and wear theirs with pride!"
Professor Green said: "It's great to be involved in recreating such an iconic shot with Millie.
"The t-shirt is in aid of a fantastic cause and carries a strong message that hopefully everyone will get behind!"
The 'Come Together' t-shirt is available at selected River Island stores and available online at riverisland.com, profits from the sale of each t-shirt will be donated directly to the cause.
LIKE US ON FACEBOOK | FOLLOW US ON TWITTER