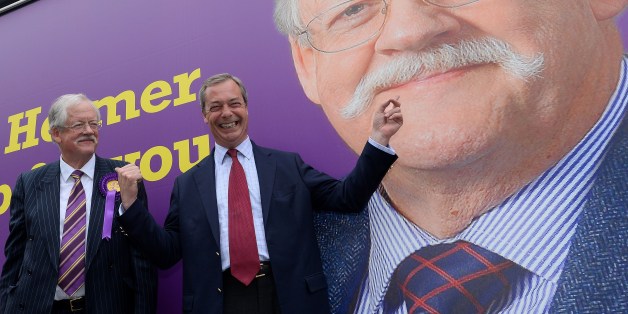 ANDREW YATES via Getty Images
Ukip's candidate in the Newark by-election has threatened to sue the Mail on Sunday after it reported he suggested the NHS should pay for gay conversion therapy.
In a letter to the paper's political editor Simon Walters, Helmer said he would "vehemently oppose any move to offer 'gay cures' on the NHS" as it had not be proven to work.
"You have deliberately and knowingly published a false and defamatory statement a few days ahead of a critical by-election, with the prima facie objective of influencing the outcome of that election," he said.
Helmer complained that the press was obsessed with "a few tangential remarks" he had made about gay people a few years ago. In 2011 he tweeted: "Why is it OK for a surgeon to perform a sex change operation, but not OK for a psychiatrist to try to 'turn' a consenting homosexual?"
The MEP, who hopes to become Ukip's first elected MP on Thursday, said today that criticism of gay conversion therapy was "deeply illiberal".
"If an individual believes that a course of treatment would help him, or might help him, then in a free country he should be entitled to pursue it," he said.
In the interview with the Mail on Sunday, Helmer said: "One person is unhappy with their physical sex and wants to change it and we say, 'OK you can do it.'
"You have a homosexual who says, 'I'm homosexual, actually I'd rather be straight, is there a way of fixing it?' We say to the person who wants to change from a man to a woman or vice versa, 'Please do that on the NHS.' We say to this guy, 'That's wicked, you're not allowed to think about it.' "
He added: "I don't know if homeopathy works or not, but I will defend the right of anyone who believes it works to try it."
The Conservative Party is defending a 16,152 majority in Newark and its candidate Robert Jenrick is widely expected to win.
A Ukip victory at the by-election, on the heels of its European election win, would be a major upset and would likely trigger panic among Tory backbenchers.