England played out an entertaining 2-2 draw with Ecuador in their penultimate friendly fixture before the World Cup begins next week.
Wayne Rooney cancelled out Enner Valencia's opener in Miami's Sun Life Stadium and Rickie Lambert's sweet strike was extinguished by a Michael Arroyo howitzer. Antonio Valencia and Raheem Sterling were both sent off following a tetchy fracas, but neither will be suspended for any World Cup matches.
Here are five talking points...
OXLADE-CHAMBERLAIN HAS TO START... IF HE IS FIT
Carlos Gruezo's innocuous roll into Alex Oxlade-Chamberlain unfortunately overshadowed an ebullient and exciting performance from the Arsenal midfielder. Oxlade-Chamberlain barely wilted in the Miami humidity and his recovery from a groin injury he suffered in April was remarkable as he zipped past anxious Ecuadorians.
Oxlade-Chamberlain merited a starting berth in Hodgson's XI before his domestic season was ended prematurely and he could provide the ideal link between the midfield and attack in Brazil, where his energy will be crucial. Providing he is fit, though.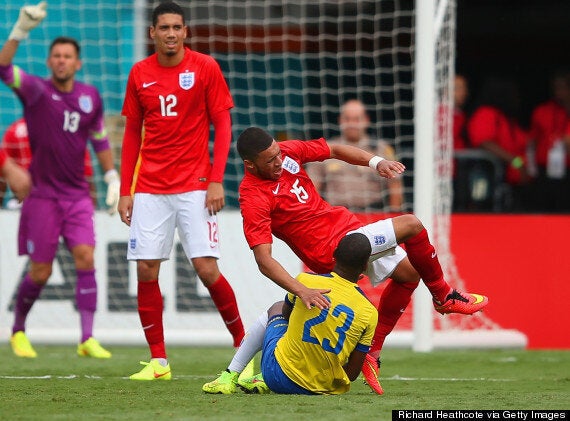 Gruezo rolls into Oxlade-Chamberlain, who reacted painfully to the accidental challenge
ENGLAND MUST PLAY A THREE-MAN MIDFIELD
Oxlade-Chamberlain's industry re-emphasised why England must field three midfielders against Italy in Manaus. Frank Lampard and Jack Wilshere, although not first choice midfielders, were easily exposed by the energetic Ecuadorians and Peru occasionally breached Steven Gerrard and Jordan Henderson at Wembley last week.
England's defence in Brazil will be their weakest in a major tournament this century, and Gary Cahill and Phil Jagielka require an extra shield in the middle third. Oxlade-Chamberlain is a selfless attacker eager to muck in, Henderson will be tasked with the donkey work and Gerrard's 34 years will not restrict him from flying into tackles. Providing Oxlade-Chamberlain recovers in time for Brazil, he could be the man who ensures England's forwards are not isolated.
WILSHERE STRUGGLES TO JUSTIFY SQUAD BERTH
How predictable Jack Wilshere should get involved in Antonio Valencia and Raheem Sterling's altercation. The midfielder seems to either be laying prostate or confronting an opponent these days, and, as Paul Scholes opined, he doesn't look any better a player now than he did when he was 17.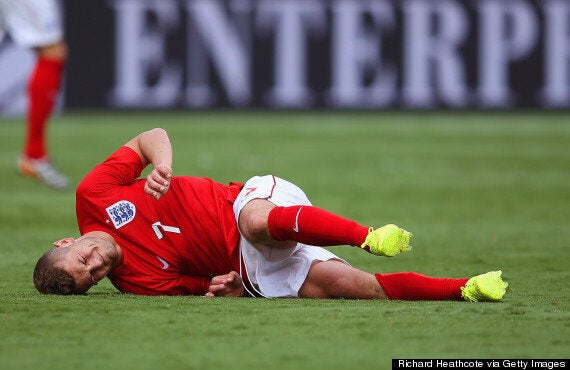 Down again: Wilshere struggled to have an impact against Ecuador
Wilshere's ineffective performance against Ecuador even compelled Andy Townsend to offer a rare erudite observation about the Arsenal man's blunt passing. Wilshere effected the FA Cup final's outcome, but he has leapt off the springboard and fallen flat on his face with England, and although alternatives are underwhelming, Wilshere is fortunate to be included in Hodgson's 23-man squad.
BARKELY SHOULD STILL BE THE SUPER SUB
In a week that Wayne Rooney's role was questioned incessantly, it is encouraging for Hodgson that he is in danger of being in the position of omitting the best players who don't make for the best team. That currently applies to the marauding Ross Barkley, whose surges deep from midfield are, whisper it, reminiscent of Yaya Touré steamrollering over opponents.
The fearless 20-year-old's pace could enliven England in Brazil, particularly against the traditionally cautious Italians in Manaus.
GOAL CAN'T MASK WRETCHED ROONEY
Rickie Lambert's anonymous first-half display meant Wayne Rooney could revel in a central role, yet his touch, control and decision-making belied the supposed skill of a footballer who considers himself to be worth £300,000 a week. The left wing is a thankless role for Rooney, yet he popped up in the centre forward position so often it was ultimately inconsequential, which will fuel concerns over his match fitness.