A hotel chain has launched an ad campaign celebrating inclusion and welcoming LGBT travellers.
Marriot International enlisted gay NBA player Jason Collins and transgender model Geena Rocero as well as a same sex couple and their children to star in their #LoveTravels social media campaign.
The resort and hotel company said it hoped to make "everyone feel comfortable being who they are, everywhere they travel."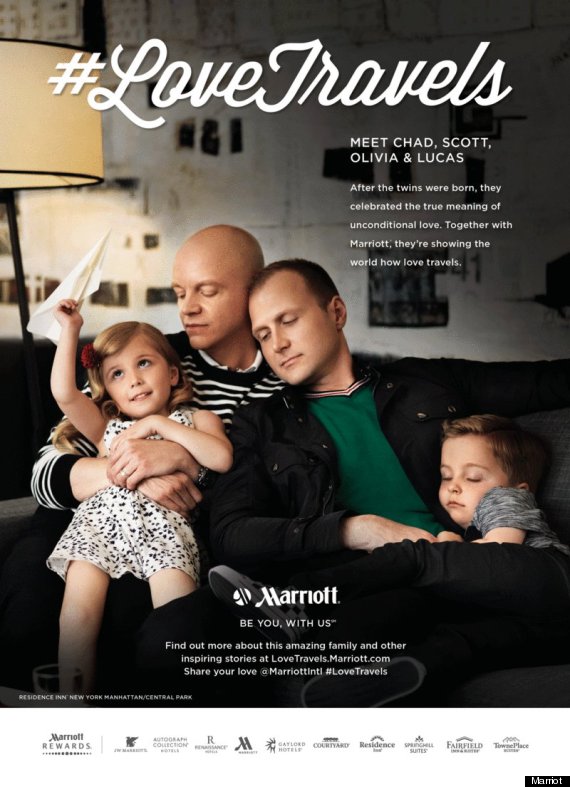 It is also encouraging its guests to share their own stories on Twitter through #LoveTravels@MarriottIntl.
The campaign will see images in New York, Washington DC, San Franciso, as well as print ads in LGBT media.
Photographer Braden Summers shot the images. He said: "I think these romantic images of same-sex couples, it's something the general public is going to relate to and slowly people will become accustomed to seeing that kind of romance."
The chain has been working hard on broadening its LGBT marketing efforts in recent years.
Last year it came under fire after it announced its decision to host the National Association of Research and Therapy of Homosexuality (NARTH) "ex-gay" therapy conference.

But the chain is now serving as a sponsor for the 2014 Gay Games, has supported the repeal of the Defense of Marriage Act and has achieved a high ranking on the Human Rights Campaign's Corporate Equality Index.
Marriot in the UK and Ireland offers lesbian and gay Pride Packages.