Nine people were injured when a pleasure boat crashed into Tower Bridge today.
Emergency services attended the scene after the Millennium City Cruises vessel collided with the north side of the iconic London landmark at around 12pm.
Five women had to be taken to hospital, while a man and a girl made their own way to get medical treatment and two other women were checked at the scene but did not require further assistance.
One of the women was taken as a priority to Royal London Hospital with pelvis and head injuries, while the other injuries sustained were described as minor.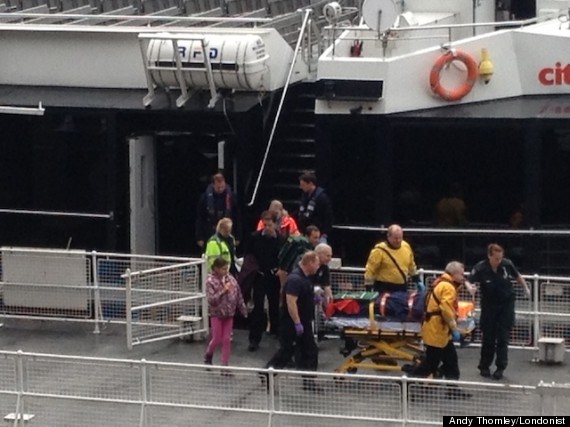 A woman suffered head and pelvis injuries
The Londonist reported one person was removed from the boat on a stretcher.
A spokeswoman for the London Ambulance Service said: "We were called at 11.59 today to an incident involving a boat at St Katherine's Pier.
"We sent three ambulance crews, a hazardous area response team and a duty officer to the scene.
"Staff treated nine patients. A 64-year-old woman suffered pelvis and head injuries and was taken as a priority to the major trauma centre at Royal London Hospital.
"Four women were treated for minor injuries and also taken to the Royal London.
"A man and a girl were treated for minor injuries and made their own way to hospital, while two other women were checked at the scene but did not require further treatment in hospital."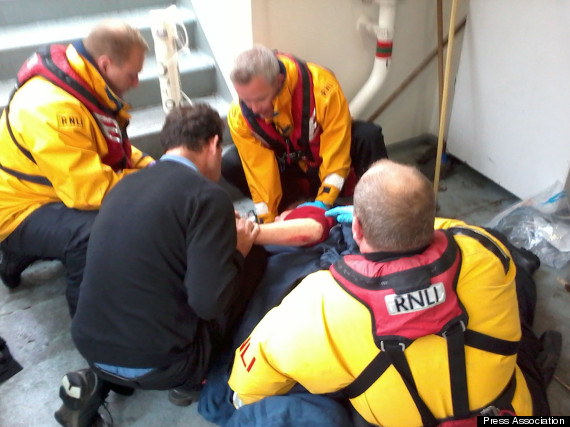 One of those injured is tended to
London Coastguard coordinated the rescue as the injured were brought ashore for treatment.
SEE ALSO
The Metropolitan Police's marine policing unit also attended the scene but made no arrests.
The bridge remained open to traffic and pedestrians while emergency services dealt with the incident.
City Cruises said the incident took place after the boat made its departure at 11.35am from Greenwich Pier to Tower Bridge.
A spokesman said the vessel sustained "minor damage" after the collision, while 126 passengers and four crew later disembarked at St Katherine's Docks.
The spokesman added: "Police and paramedics were able to inspect the boat, which has been returned to our London headquarters in Cherry Garden Pier. Our other services remain in operation."
A lifeboat crew based at Waterloo Bridge was first on the scene following the accident after being tasked by the London Coastguard.
Kevin Maynard, one of the four crew members on the Tower RNLI lifeboat, said: "We launched just after midday and, when we arrived, the boat had come alongside St Katherine's Pier by Tower Bridge.
"We understand the woman with the head injury had been standing at the top of some steel steps when the collision happened and the impact knocked her down."
Mr Maynard said the original call related to the woman with serious injuries but further people then came forward to say they had also been hurt.