One of the Queen's page boys fainted today as the monarch outlined the government's proposed laws for the last time before the 2015 General Election.
A loud thud could be heard in the House of Lords after the child fainted at around eight minutes and 53 seconds into the Queen's Speech, which lasted close to 10 minutes.
The shock of new legislation that will allow voters to recall MPs, make it easier for shale developers to drill under other people's homes and make people pay for plastic bags may have been too much for the young boy, who collapsed moments after the Queen told those gathered the Government will work towards a "comprehensive nuclear agreement with Iran".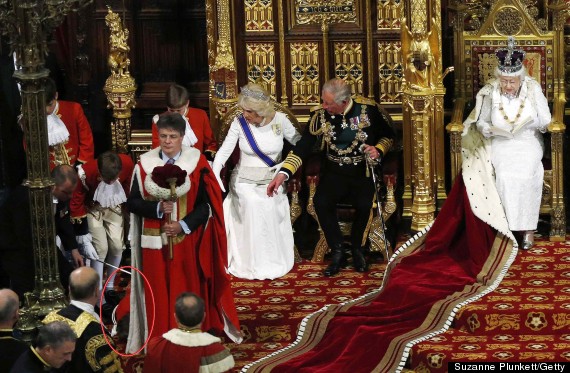 The Queen continued to give the speech, as Prince Charles and the Duchess of Cornwall showed concern
A House of Lords spokesman confirmed the child was fine, adding there were no problems.
During the speech, the Prince of Wales and Duchess of Cornwall, who were sat nearest to the boy, showed concern as help was called to assist him.
SPEECH REACTION:Recall Of MPs Bill A 'Cynical Stitch-Up', Says Tory MP

Watch Labour MP's Heckle: 'Coalition's Last Stand'

The State Opening Of Parliament In Pictures
The child was carried out of the chamber while the Queen continued reading the speech without appearing to break her delivery.
The boys who perform the role are known as pages of honour.
The four page boys listed in today's programme were Hugo Bertie, Viscount Aithrie, Charles Armstrong-Jones and Arthur Chatto.
A House of Lords spokesman refused to identify which of the boys had fainted.
The spokesman said: "We can confirm one of the page boys did faint slightly but he is now fine. He is with his family and there is no problem."
The three remaining page boys assisted the Queen as she left the Lords after she completed the speech.
They carried the Queen's train as she arrived in the Lords and performed the same role as she left, remaining in the chamber throughout the event.