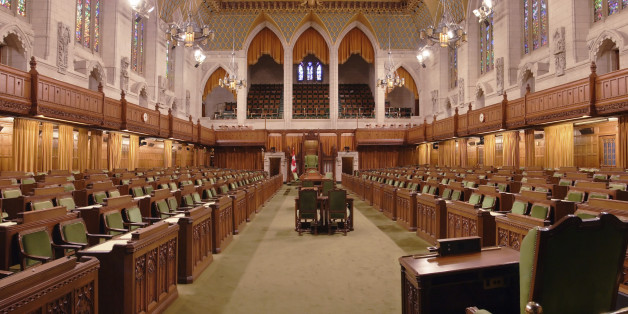 Bryan Delodder via Getty Images
New plans to allow voters to 'sack' their MPs have been branded "meaningless" because critics fear the criteria is so tight they will never be used.
Constituents will be able to boot out an MP if they are sentenced to up to 12 months in jail, under measures announced in the Queen's Speech. But other cases of bad behaviour will only trigger a possible by-election if the House of Commons finds that an individual has engaged in "serious wrongdoing" and recommends they face a recall petition.
Conservative MP Zac Goldsmith, who has campaigned for tough recall laws, said such a move meant that Parliament still held all the power.
He told BBC Radio 4's World at One: "I don't think it goes far enough. I actually think it doesn't go in the right direction at all. I think it goes backwards, not forwards because recalls should not require the permission of the institution that is being held to account.
"No one can be recalled under this proposal without the permission of the standards committee, the same committee incidentally that got into trouble over Maria Miller just a few months ago.
"The criteria is so narrow that it is meaningless in any case. No one will be recalled."
He added: "Effectively this is all power to the parliamentary committee and no power to the voter, which is what it is meant to be."
Former Tory leadership candidate David Davis warned that if the powers to trigger the recall process are given to organisations linked to the whips or the Government it could lead to backbench MPs being treated more harshly than those on the ministerial payroll.
He told the Commons: "It is as plain as a pikestaff, and I'm not going to pick out individual cases, so please don't ask, but it's as plain as a pikestaff that people outside the system, the mavericks, the ones who are not perhaps popular with their frontbenches get a different standard of treatment to those who are inside the system - the Cabinet ministers, the shadow cabinet ministers and so on.
"I would resist fiercely any proposal that gave that decision to any organisation that is controlled or influenced by the whips' offices, and I used to be a whip, or the frontbenches of either side, or indeed the establishment of the House even.
"I'd rather see something that is solely democratically called and originated in constituencies."
SEE ALSO
Speaking in the Commons after the Queen's Speech, former Wales secretary Cheryl Gillan said she would support the Recall Bill if it was there to ensure the public's trust and confidence in their MP.
But she said it need to be applied across the board to all elected representatives within the UK, including MEPs and councillors.
The Tory MP for Chesham and Amersham said: "I personally think that it is not necessary, however if it is there to make sure people have trust and confidence in their elected representatives then I'm going to support it because that is considerably more important than any luxury we may have to serve continuously even after we have committed a crime, maybe even a crime that has resulted in a custodial sentence.
"However, I would just like to point out there is some inequity in this because if it is MPs that are going to be subject to the power of recall, why not other elected representatives? Why not the Assembly members, why not the members of the Scottish Parliament or the Assembly of Northern Ireland? Why not MEPs and why not councillors?
"I think that if you stand for election, you need to make sure that you as an elected representative are treated fairly across the board.
"So I hope with the passage of that Bill we will be examining what possibilities exist to have the same conditions applied to other elected representatives in other parts of the UK so they are not just singling out MPs."
Gillan said it was also time to look again at cabinet collective responsibility, the convention that members of the Cabinet must publicly support all Government decisions made in Cabinet even if they don't privately agree with them. It includes votes in Parliament.
She said it had created problems for her during her time in Cabinet in relation to HS2, an issue of great concern to her constituents.
"Now is the time to have a look at cabinet collective responsibility. It is extremely difficult because it seems to be observed by some people and not by others," she added.
"Of course I could not talk in public about HS2 that was affecting my constituency so badly. Now I would not like to see others go through that.
"I think if we are going to look at recall, if we are going to look at the constitutional position of an MP, this may also be a time to refresh our views on cabinet collective responsibility and perhaps allow some exceptions in the future which would make life a great deal more agreeable."
Liberal Democrat party president Tim Farron admitted the Bill was "imperfect" but insisted it was better than nothing.
He told the programme: "It's far better to have an imperfect recall bill in there that we can then amend and improve than to not have one at all."
Shadow housing minister Emma Reynolds said Labour supported the move in principle but would need to examine the proposals because "the devil's in the detail".
MPs are now only expelled from Parliament if they are jailed for more than one year. Less serious wrongdoing is punished by temporary suspension from the House.
Under the Recall of MPs Bill, a petition to trigger a by-election could be staged if an MP is sentenced to up to one year in jail or the Commons deems that they are guilty of wrongdoing.
A local vote would be forced if more than 10% of constituents signed the petition over an eight-week period.
The move comes after years of wrangling that sparked bitter recriminations and rows between the two governing parties.
Recall powers formed a key plank of the coalition agreement by David Cameron and Deputy Prime Minister Nick Clegg in 2010 following widespread voter discontent about the House of Commons expenses scandal.
Under the deal, they pledged to bring forward "early legislation" to introduce the powers but the move was repeatedly kicked into the long grass.
The proposals appeared to have been killed off earlier this year when the Liberal Democrats accused the Conservatives of scuppering the measure.
But the Prime Minister later declared his intention to revive the plans in the wake of fresh anger over the behaviour of MPs.
MPs had previously warned that a recall mechanism could be abused for party political advantage and fears were raised about the process turning into a "kangaroo court".
The Government said the measures announced today would be "transparent, robust and fair" but would not lead to MPs facing "frequent and unnecessary distractions".