'Grace of Monaco' got a right royal going over by the critics when it premiered a fortnight ago at Cannes - with the director and producer at loggerheads, Monaco's royal family voicing their disgust at the story, Harvey Weinstein suddenly finding himself unavoidably absent from the red carpet, and Nicole Kidman pausing between big smiles and waves to tell interviewers that her job was only to do what the director told her - 'Je ne regrette rien."
After all that, how good, or bad, is the actual film?
The Guardian critic Peter Bradshaw has given the film one star, stating that "the cringe-factor is ionospherically high", adding: "A fleet of ambulances may have to be stationed outside the Palais to take tuxed audiences to hospital afterwards to have their toes uncurled under general anaesthetic."
The Telegraph was equally as critical, with their film writer addressing the general mood after a press screening.
"By the end of the first scene [members of the press] had started curling up, like startled armadillos, into tight little balls of embarrassment," writes Robbie Collins.
After all that, HuffPostUK made it its mission to look for the good in the film, and come out of the cinema with at least five nice things to say.... and we just about managed it. Here goes...
The scenery
Anyone who's holidayed on the French Riviera knows that one of that celebrity playground's great draws is the light, and the drama caught between high hills and blue sea. Director Olivier Dahan catches this beauty as we see Grace driving up the winding mountain roads (all too poignantly, as this was exactly where she met her death in 1982). Admittedly, it's all there for the taking in other films including Grace Kelly's own 'To Catch A Thief', but you can never have too much of this Cote D'Azur landscape.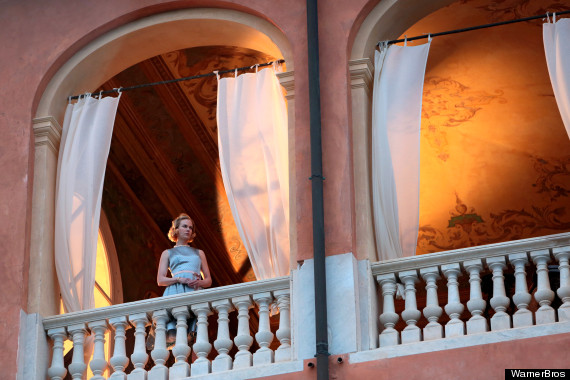 Grace - privileged but alone in what seemed like an impossibly glamorous existence
Tim Roth
There's a scene in the film, where Grace is educated in the art of princessy deportment by the strange, courtly character of Count Fernando D'Aillieres (Derek Jacobi, giving it camper than quilts). He tells her to "be still - retain your power". This is ironic as, during the entire rest of the film, Grace scampers around, all eyes popping and dress-tugging, bringing to mind the feisty Oirish maiden Nicole Kidman played much earlier on in 'Far and Away'.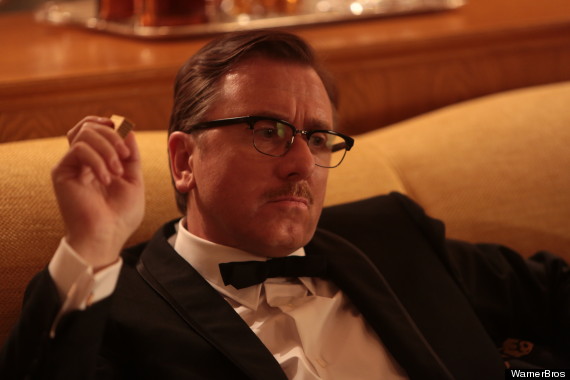 Tim Roth as Prince Rainier
Instead, it's Tim Roth as Prince Rainier, her stately, sometimes cold, husband who is the under-served backbone of the film. Admittedly, he doesn't have to do very much at all - namely, wear a suit, light a cigarette and tip head to side while gazing at Grace contemplatively - but what he does, is done with panache. I wish he were in it more.
Clothes and jewels
It's every young girl's fantasy to dip into the fancy dress box and emerge as a princess, and Nicole Kidman makes full use of the costume department here. Add to this the trinkets associated with royalty, galas, the fashions of the day (early 1960s), the wide-brimmed hats associated with Princess Grace and the bright colours of the French Riviera, and it all adds up to a colourful swish of stately style – the highlight surely being the wraparound fur that Grace dons to sit and smoke on Aristotle Onassis's boat. Which will help take your mind off Robert Lindsay's apples 'n' pears stab at Ari's Greek accent.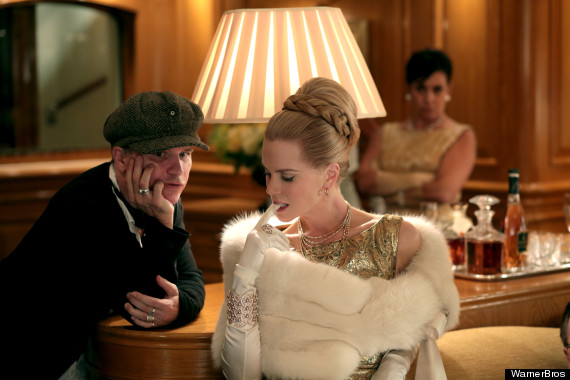 Nicole dons fur and jewels to play the glamorous Princess Grace
The extras
Parker Posey is suitably vixenesque as the spy in the Palace camp (or is she? Not going to ruin this muddled sub-plot for you), while Derek Jacobi, as already mentioned, wafts around some hillside villa being knowledgeable about 15th Monagesque protocol – good job if you can get it, but a bit of a niche market. Frank Langella is, inexplicably, a priest who not only brought the Prince and Princess together, we're told, but gets to sit in cabinet meetings and help make state decisions - is this character a hybrid of about six real people, I wonder? Top marks, however, must go to Roger Ashton-Griffiths, stealing all the scenes he's in as Alfred Hitchcock, doing his best to persuade Grace back to the big screen, and thumbing his squat nose at the diamante cage now surrounding his leading lady.
Overall atmosphere
You can't fault the design of the film – big sweeping shots capturing elegant cars turning up tree-lined driveways, glittering aerial shots of boats and casinos. If you're having trouble keeping up with this bizarre lovechild of a film – somewhere between political thriller and scenes from a marriage – you can always sit back and enjoy Olivier Dahan's lavish gaze at this particular part of the world, Somerset Maugham's "sunny place for shady people".
'Grace of Monaco' is in UK cinemas from Friday 6 June. Watch the trailer below...