Bebeto got into the swing of the of the World Cup mood as he recreated his USA '94 baby-rocking celebration with the man who made it possible.
The Brazilian World Cup winner's wife had delivered their third child two days before the quarter-final with Holland and after the striker doubled his country's lead, he ran to the sideline, brought his arms together and began rocking an imaginary baby.
Teammates Romário and Mazinho were quick to join in to celebrate the goal and newborn's birth.
A Patrícia Poeta entrou na onda do "embala nenê" em minha casa. Entrevista passará hoje no JN. http://t.co/wKMZMaUG0Spic.twitter.com/ynqHYfyKKq

— Bebeto (@bebeto7) June 5, 2014
Twenty years on, Bebeto and Mattheus paid homage to the celebration that sparked a thousand imitations.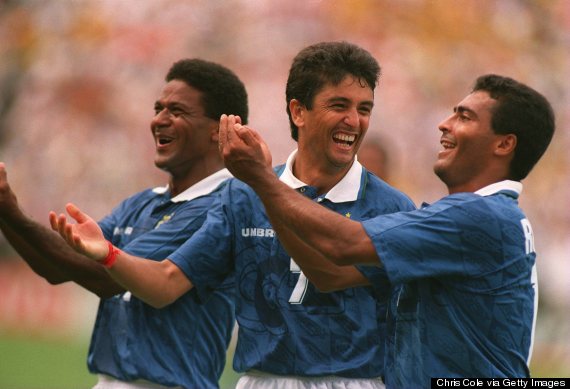 Mazinho (left) and Romário (right) join Bebeto to celebrate his goal and the newborn