'Orange is the New Black' Season 2 debuts today on Netflix, following the further adventures of well-to-do Piper Chapman, locked up for a year following her bust for drug-carrying under the persuasion of her former lesbian lover Alex, who also happens to be in the same jail.
Away from the inmates of Litchfield Prison, Season 2 will see Piper's husband Larry trying to redeem himself after he broke Piper's trust, talking about his wife's incarceration on national radio.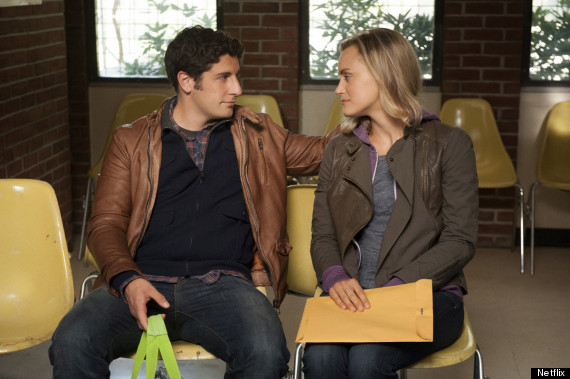 Jason Biggs and Taylor Schilling are Larry and Piper, tested by circumstance in 'Orange is the New Black'
Actor Jason Biggs makes a pretty impressive defence of his screen alter ego...
"It's really sad," he reflects on his character's imploding marriage.
"What started out with so much promise and hope has really devolved. It's so real. I can't imagine a relationship sustaining those circumstances.
"I think Larry has white knight syndrome. He's of the mind, take care of everyone else first, and it comes back to bite him in the arse. I have that too, and it's only recently I've learned how to take care of myself.
"What happens is if you put everyone else first, and if someone you put first does something to hurt you, your resentment just goes off the charts, and that is like poison. I've experienced that first-hand, and I think Larry gets a big dose of that. As more revelations are made about what Piper is doing, this poison just spirals and spreads, and he implodes."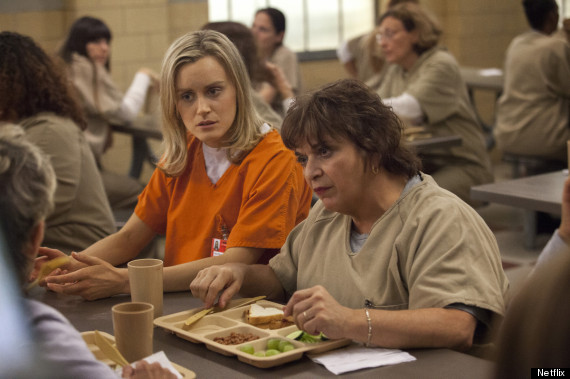 Sympathy is very much for those on the inside in the series
Jason reflects on the bigger themes of the show, and our ever-increasing love for these anti-heroes, or heroines, of the small screen...
"These women in the prison are ostensibly bad people, they're criminals, and yet the audience finds themselves loving these women, investing in their stories and rooting for them. Coming out of that is a sense of open-mindedness and understanding and compassion.
"And the more you sympathise with the women, the harder it becomes to root for Larry, even though he's doing is best to finally take care of himself."
SEE ALSO: Ten More Top Titles From Netflix...
For Jason, being one of the very, very few male roles in this hit series is no shock to the system, after growing up in what he calls a very matriarchal household.
"There are no surprises for me," he smiles. "I know a lot. I get along better with women, most of my friends are women, I'm just more comfortable, and my wife is the opposite."
Jason is a recent first-time dad, and it seems like life did have one big surprise in store for him...
"I've always pictured myself having my first child, and it being a girl," he admits. "Always always. I never pictured it being a boy, and I just had my first child.
Oh, please let it be...
"It was a boy," he grins. "When the doctor told us, I was like, 'What the fuck do I do with that? I'm going to have to get into sports and stuff.'"
'Orange is the New Black' Series 2 debuts today (6 June) on Netflix. Watch the trailer above, new pictures below.
LIKE US ON FACEBOOK | FOLLOW US ON TWITTER