A desperate search for 24 students swept away on a riverside in India by a wall of water which was released unexpectedly from a dam upstream has resumed.
Around 50 students from the VNR Vignan Jyothi Institute of Engineering and Technology in the southern city of Hyderabad were travelling by bus to the tourist area of Manali before the tragedy happened.
They got off the bus to take photographs at the edge of the Beas river when a surge of water was released unexpectedly from the Larji Power Project dam upstream, washing half of the group away.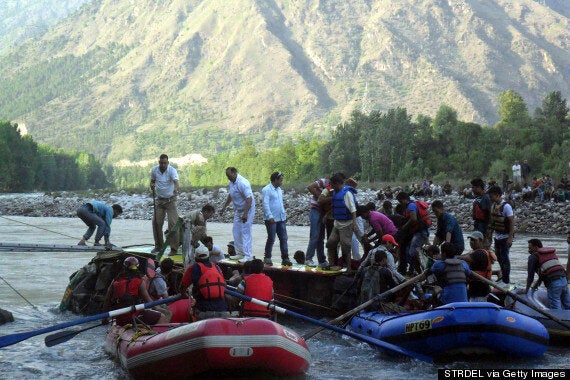 Volunteers and police personnel attempt to reach victims inside a partially submerged bus that tumbled into the Beas river close to Jhiri near Kullu, India's Himachal Pradesh state
Officials say that five bodies have been recovered so far, but with 20 still missing, the chances of discovering anyone alive are slim.
Grieving and furious, locals and tourists reportedly blocked traffic on the busy road on Sunday, demanding an explanation for the lack of warning.
However, Mandeep Singh, an engineer from the hydroelectric plant, told CNN-IBN that a warning hooter was used before the release, but the signal "was not heeded".
The disaster has sparked outrage and sadness across the world, and an inquiry was launched by Himachal Pradesh's Chief Minister, Virbhadra Singh, with some hydropower plant workers already suspended.
"My friends lost their footing and drowned before my eyes," he said.
Despite the help of some 84 divers, soldiers, and other rescue workers, the search remains extremely challenging.
"It is very difficult to retrieve the bodies due to deep cavities and the dam site," senior police officer Rakesh Kanwar told reporters.
The president of India, Pranab Mukherjee, said action would be taken to prevent incidents like this occurring in the future.
The dam is part of a hydropower project to harness the power of rivers, diversifying away from coal and gas plants, but it carries risk of environmental damage.
A government report published in April concluded that hydropower projects in northern India held some blame for last year's floods, which killed thousands, adding to the controversy.