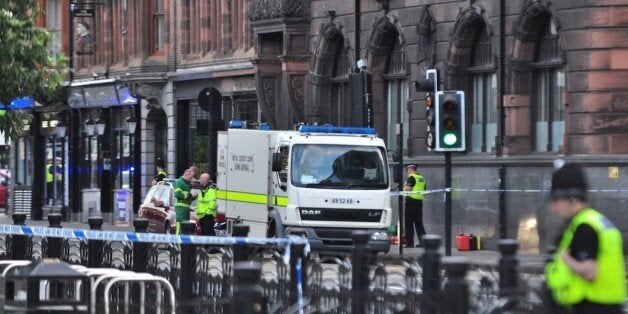 Students at Newcastle University were left "terrified" after a police swarmed the area and evacuated a building housing international students following reports of a bomb scare.
Northumbria Police carried out a controlled explosion at around midnight on Tuesday on Newcastle Town Moor after "suspicious objects" were found in one of the university's buildings. An 18-year-old man has been arrested in London in connection with the incident and a student's room was searched as part of the investigation.
A large area of Newcastle University was cordoned off and the INTO building evacuated after police received reports of the suspicious items, the Mirror reported.
The INTO building is a £30m study centre for international students, and helps them prepare for study in the UK.
A bomb disposal robot was taken onto the site to investigate amid fears the items could be dangerous, with police searching a student's room as part of the enquiry.
As the university campus is directly within the city centre, Newcastle's Haymarket bus station was closed, as well as the B1307, one of the city's main roads through the centre.
A statement by Northumbria Police said all roads in Newcastle city centre are now fully open, and there is currently "no cause for concern" for students and the wider community.
Chief Superintendent Laura Young said: "Police have been searching a Newcastle Univeristy building and the building has been evacuated as a precaution so that items can be recovered and examined.
"Residents around Newcastle Town Moor may have heard a slight bang and I would like to reassure them this is in connection with the incident at the University and was planned."