In a different era, mindfulness to footballers might have conjured images of Sir Alex Ferguson's scheming shenanigans or Stuart Pearce at his gurning 'psycho' best.
Being drawn to medical folk who could get inside your head would not have come naturally to the average player. In fact they would more likely have told you where to go - football was a man's game, after all, it was physical not mental.
Not so anymore. As Britain's Olympic athletes in 2012 showed, sport is much more than that; physical wellbeing must be matched by mental strength, and what goes on inside the head is equally as important to success. And this is where mindfulness plays its part. A number of leading footballers already seek help and support from psychologists in order to find balance and the inner strength to cope with the pressures of the game. And it's even reached the England squad.
Before Daniel Sturridge makes his World Cup debut for England against Italy on Saturday, he will devote one hour of his pre-match preparations to psychiatrist Steve Peters.
Peters is the unsung hero of Britain's golden generation in cycling, he also worked with Ronnie O'Sullivan during his fourth and fifth snooker World Championships and joined Liverpool's resurgence under Brendan Rodgers. His work with sportsmen was inevitably noticed by Roy Hodgson, booking himself a seat on the plane to Brazil with England's backroom staff.
"Steve has helped a lot in terms of mindset," Sturridge said in October. "He's all about self-belief: don't go out there with the mentality of trying to do something, just let it happen."
Although Peters rarely travels with Liverpool for away games, Sturridge values Peters so much he will Skype him before a game. Sturridge admitted he is "uncomfortable getting comfortable", despite Peters suggesting he mark himself highly out of 10. Sturridge enjoyed his best campaign to date last season and scored 24 goals for Liverpool and he is no longer known as "unfulfilled".
Usually, sportsmen consult a psychologist, rather than a psychiatrist. "Psychiatrist" is defined as a "doctor specialising in the diagnosis and treatment of mental illness", whereas a "psychologist" studies the human mind and its functions. Peters' background makes him a unique authority in both fields, and Steven Gerrard says he has helped "with what's going on in my head and the mental preparation".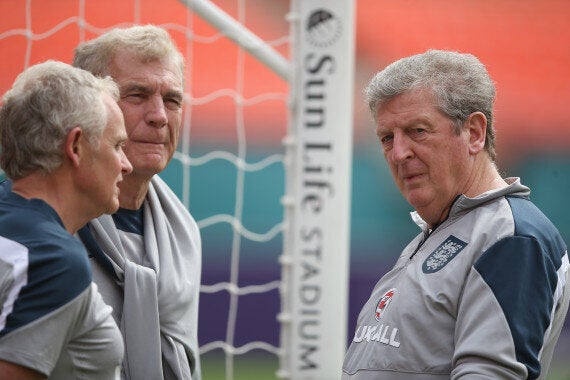 Peters (left) was recruited by Hodgson in March ahead of the World Cup finals
No club has provided England with more players this World Cup than Liverpool, and Sturridge, Gerrard, Jordan Henderson, Raheem Sterling and Glen Johnson should all start against the Italians on Saturday. Their Premier League excursions ended traumatically, as Liverpool's title capitulation with three matches remaining left some players in tears, which will make Peters' role all the more pivotal in Brazil.
"There are many excellent professionals who can help: therapists, nurses, doctors, psychologists, sports psychologists, and so on. Find one who you can work with if you are finding it difficult to work alone. It's my hope that everyone can experience a better quality of life."
A better quality of life is essential for sportsmen, but the finer details matter. Phil Neville, the former Manchester United and Everton defender, was hesitant about becoming a vegetarian since he believed "it would take away a lot of the nutrients that I would require to be a professional footballer and an athlete," yet noticed he felt "healthier, leaner" once he did.
His former United teammate, Ryan Giggs, retired at the age of 40 last month, but said in 2009 if he ate a "slice of buttered toast I feel less sharp mentally".
Giggs was an advocate of yoga, which prolonged his Peter Pan playing career. In his early-to-mid 20s, he was beset by hamstring injuries, however yoga acted like a spiritual balm. "The first time I did it I was completely knackered," Giggs said in 2008. "I went home from the training ground and slept for three hours." He persisted, however, and played some of the best football of his career in his late mid-to-late 30s.
It is easy to be dismissive of yoga. The 2012 Being: Liverpool documentary, shot in the opening months of Rodgers' reign, shows Liverpool players and staff struggling to suppress their laughter during a series of stretchers, and someone lets out a "meow" during a cat-like pose. Few clubs, though, do not hire yoga instructors these days. Even Andy Carroll does it.
Meditating is not as in-vogue, but Lionel Messi does it before and after games. Andy Puddicombe, meditation expert with getsomeheadspace.com, said: "In meditation, one looks to develop a balance of effortless relaxation and applied focus. But it also helps to develop spatial awareness, mental endurance and pain management."
Puddicombe lists a number of (unnamed) Premier League footballers among his clients and insists just 10 minutes of simple meditation can provide the perfect post-match pain relief.
"Muscles grow and get stronger when we're resting, not when we're exercising," he says. "So getting enough of the right kind of rest is essential."