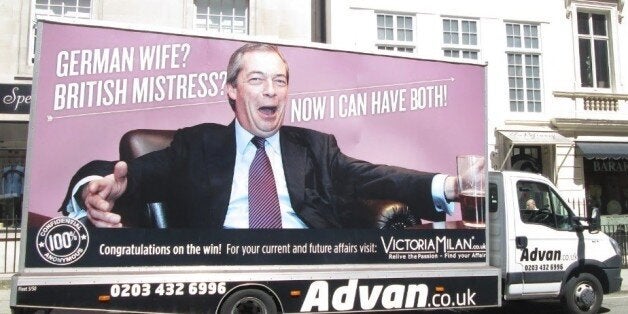 Nigel Farage has become the surprise star of billboard campaign promoting a website specialising in extramarital affairs.
The Victoria Milan site used the Ukip leader for its advertising campaign due to allegations of extramarital affairs that dogged him in recent weeks, which he has vehemently denied.
The poster shows a smiling Farage, pint in hand, with the caption: "German wife? British Mistress? Now I Can Have Both!"
The "infidelity dating" site, which claims to have four million members, started off its campaign bringing the billboard outside of Ukip's headquarters in Mayfair, London, with plans to tour Central London streets over the next few weeks.
Victoria Milan founder and chief Sigurd Vedal said: "Every one of us has weaknesses and so does Mr. Farage. His colleagues have publicly admitted that women are his biggest weakness, and media reports have confirmed this fact.
"Some weaknesses are best kept hidden. The story of Mr. Farage is a warning to anyone who wants to keep his or her affairs out of the front pages."
Ex-Ukip MEP Godfrey Bloom, a former flatmate of Farage, said recently that the party leader had a "weakness" for 'crumpet", adding: "It's not something he has denied".
The Ukip leader later had to defend himself after being photographed walking hand-in-hand with a blonde woman approaching a hotel after a visit to a night club in Malta. Farage described suggestions of cheating as "fluff and nonsense", adding: "She is a disabled woman who I helped back to the hotel."
A spokesperson for the dating site said Farage's controversy in Malta was "amazing to us" as "our office is located five minutes from that nightclub and the hotel".