The World Cup 2014 is officially here. Yes, that special quadrennial festival has arrived, where the world's richest group of shorts-wearing men will battle it out to win the pride of their country, and fresh new endorsement contracts.
But as everyone knows, no World Cup is just about the football. Almost every company in the world is ready to jump on the vuvuzela-wagon by using it as an opportunity to promote, sell or pitch their various products, both to the general public and to us lowly journalists, and the tech world is no exception.
To get you in the spirit for Brazil 2014, and clear out our inbox, we've collected some of the most ridiculous PR facts, figures and stats we've been sent about the World Cup. Read on to find out how far tech companies will go to connect their brands to Lionel Messi.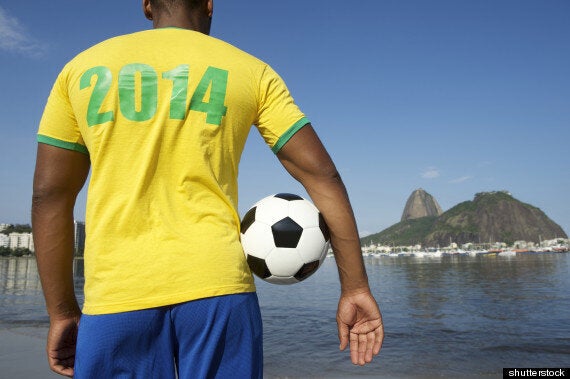 Ridiculous Facts Tech PRs Paid Thousands To Tell You About The World Cup:
Over a quarter of 2,000 people polled told Samsung they will 'live pause' Adrian Chiles just so you can skip past his commentary. Poor Adrian.
Here are the top 10 players most likely to give you a computer virus if you search them, because….no we can't think of it either:
Sales of HDTVs have shot up an incredible 525% in the weeks leading up to the World Cup.
We're getting the beers in as sales of mini-fridges have doubled in the weeks leading up to the start.
PARDON? Sales of soundbars and surround sound systems has gone up an absolutely ludicrous 1920% week on week leading up to today.
40% of us will watch the game live AND record it just so we can presumably re-watch, critique and then talk with completely misplaced authority down the pub later.
27% of us are planning to book time off work to watch at least one game
Samsung says 23% of football fans plan to watch the majority of games at home alone. Losers.
Massive Brands Tweeting About Events Bandwagon Facts:
Budweiser tweets World Cup related content 92% of the time. Talk about bunny boiling.
44% of Coco-Cola's tweets between 23 April and 21 May this year have been related to the World Cup. They statistically neither support or won't support the World Cup.
There will be a 25% increase in broken toilets during the World Cup according to Dyno the 'Number 1 plumbing and drains company'
42% of us admit to missing a great sporting moment because of being on the loo.
Related