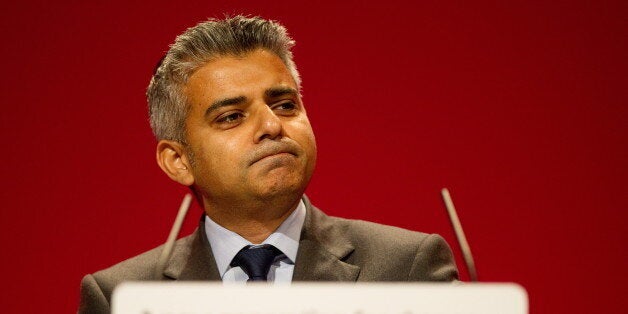 In an interview with The Huffington Post UK, the shadow justice secretary and close ally of Ed Miliband also said Labour needed to be "bolder" if it wanted to win the 2015 general election campaign and suggested the party would not rule out a coalition with Nick Clegg.
Politics, Khan explained, is a "team sport". Despite the presidential nature of British politics in recent years, "no one person is going to win it for us in 2015. You've got to play your role. Its a sport we should all get involved in."
Asked about complaints from some shadow cabinet ministers that the recent European and local election campaign was too 'Ed-centric', Khan said: "If you're correct in what you're saying, people who are part of the team are complaining that they're not being asked to pull their weight. If you feel you're not being asked to pull your weight, don't wait to be asked. Just pull your weight."
Miliband has been dogged by accusations that he is "weird" and not seen as a leader by voters. Khan said it was not the job of the leader to be a "pretty face" and rejected the suggestion he was not prime ministerial.
Khan said that "there's always something to improve" but it was for Miliband "to decide what he needs to improve on".
"Can we improve getting our message across better? Yes. Do I think the criteria for 'who's the best prime minister' is 'who can best eat a bacon sandwich'? No." He added with a joke: "As a Muslim, I'd always recommend against eating a bacon sandwich."
There has been for some time an internal debate within Labour about whether the party should play safe and try and ease into power, or present a more transformative agenda to voters in order to try and secure a mandate to govern in a radical way. Khan said the latter approach is the correct one. And warns that politicians from all parties need to convince voters that politics can deliver. "The public just don't believe what we say," he said.
"We're going to win the next election not by being less radical but by being more radical. Not by being less bold but by being more bold. The challenge of the next 12 months is: 'Can we be bolder and more radical?'" he told HuffPost UK's Mehdi Hasan.
In his job as shadow minister for London, Khan, who also said it would be a "huge privilege" to be mayor of the capital one day, was in charge of the recent election campaign in the city. Labour achieved its best result in London since 1971, whereas it did well less well in the country at large.
Despite defending national campaign co-ordinator Douglas Alexander, Khan was keen to emphasise the "genuinely bold and radical policies" that the party offered to Londoners under his leadership. "I can only talk about London. That's the campaign I was in charge of," he said, before adding: "The point is that Douglas has the confidence not just of myself and Ed but the shadow cabinet..."
With the polls narrowing, some suggest Labour could fall short of an overall majority, forcing Miliband to consider a coalition with the Lib Dems. Senior Labour figures have stepped up their attacks on Nick Clegg as a Tory accomplice, but Khan is clear that the party should be prepared to work with the deputy prime minister.
"Given the choice between David Cameron being prime minister and Ed Miliband being prime minister if there's a coalition then obviously I'd go for [the coalition] option," he said when asked if he would be willing, in principle, to do a deal with Clegg.
In the full interview with Mehdi Hasan, Khan talks about his mayoral prospects, the rise of racial inequality in Britain, his willingess to consider all-BME shortlists and the need to publish the Chilcot Inquiry into the Iraq war sooner rather than later.