It is a truth universally acknowledged that big boys don't cry. Instead, they are expected to maintain a stiff upper lip and run along to play sport or do some DIY in the garden.
Men experience greater levels of emotion than women when presented with heart-warming material, according to the study for Royal Mail, which has used the findings to produce the "definitive" list of phrases for a successful Father's Day card.
A group of 15 fathers and 15 mothers were presented with images and videos categorised into blissful, funny, exciting and heart-warming scenarios, such as a soldier returning from service and reuniting with his daughter, while their physiological reactions were measured using skin conductance electrodes.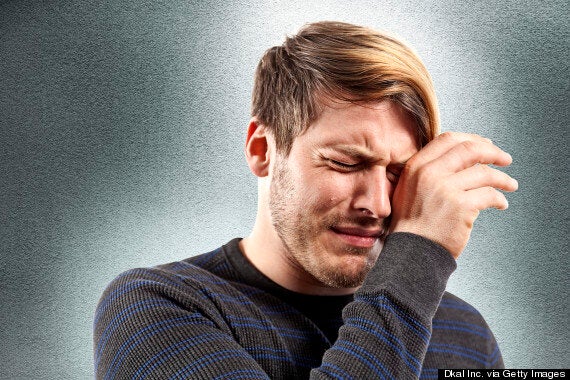 Men demonstrated a marginally higher emotional reaction to the blissful, funny and exciting content compared to the women but responded twice as strongly as women when presented with heart-warming content.
An accompanying questionnaire found that even though the men reported feeling less emotion than the women, their physiological changes showed they felt emotion more strongly.
Mindlab founder and chairman Dr David Lewis said: "Gender stereotypes about men being stoic and women being emotional are reinforced by our day-to-day consumption of media and our social interactions.
"We tend to oversimplify and exaggerate the perceived differences between men and women and are more likely to focus on evidence that supports our existing gender stereotypes.
"This study suggests that men feel emotion just as much as women, sometimes more strongly, but are less willing to express these emotions openly due to expectations put on them by society."
Royal Mail's list of phrases for Father's Day cards "that will tug at fathers' heart strings" are 'number one dad,' 'you're my favourite person in the whole world,' 'I love you,' 'you're the best,' and 'thanks for everything you've done for me.'
A survey of 2,000 men to support the experiment found 67% thought they were more emotional than they appeared.
Some 40% of 18 to 24-year-old men said they had cried in the last week and 64% of all those questioned said they were surprised at how much emotion they felt when their child was born.
Stephen Agar from Royal Mail said: "What our research has shown is that underneath a stereotype of a tough exterior, men are really emotional but they don't like to admit it.
"We've created an ultimate list of phrases that have been scientifically proven to move dads and really pull at their heart strings.
"We hope this helps our customers when writing and sending their Father's Day cards, and we expect there to be a lot of emotional dads across the UK come Sunday."
:: OnePoll surveyed 2,000 adult men online between May 22 and 28.