Horrifying footage has emerged showing Sunni insurgents of the Islamic State of Iraq and the Levant (Isis) beheading a police officer.
In a shocking piece of footage - too graphic to publish - fighters are seen knocking on the door of a Sunni police major in the dead of night before they blindfold and cuff him.
They then carve off his head with a knife in his own bedroom as religious hymns are played in the background.
After the decapitation, the militants took a picture of the officer's head and posted it on Twitter with the comment: "This is our ball. It's made of skin #WorldCup."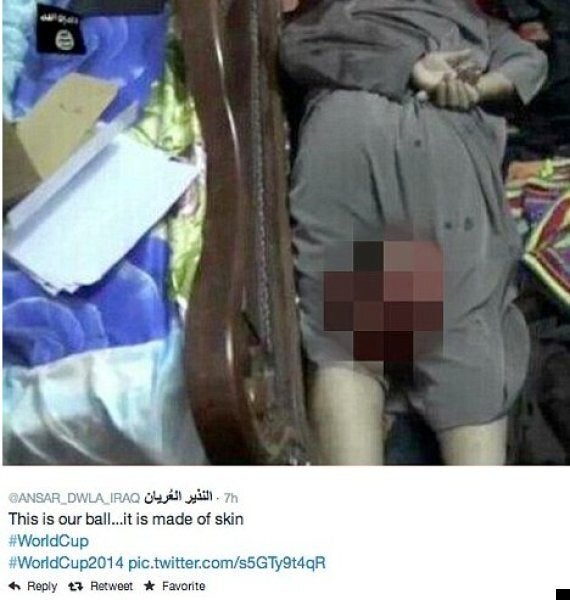 The brutal act has sparked outrage on Twitter.
Isis insurgents took control of Mosul, Iraq's second largest city, this week displacing hundreds of thousands of people.
Shortly afterwards, the militants imposed a strict set of Sharia laws on the citizens of Nineveh province, urging leaders not to "work with [the Iraqi] government and be traitors."
Isis has vowed to march on Baghdad.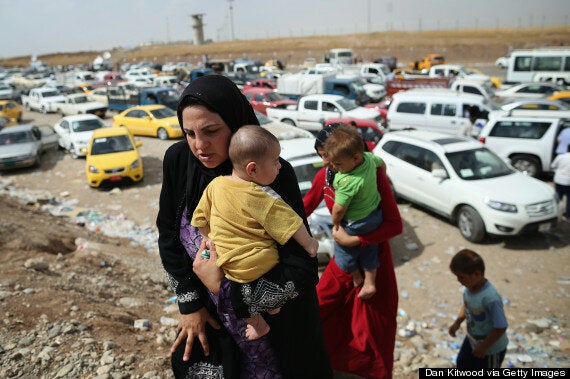 Families arrive at a checkpoint next to a temporary displacement camp in Kalak, Iraq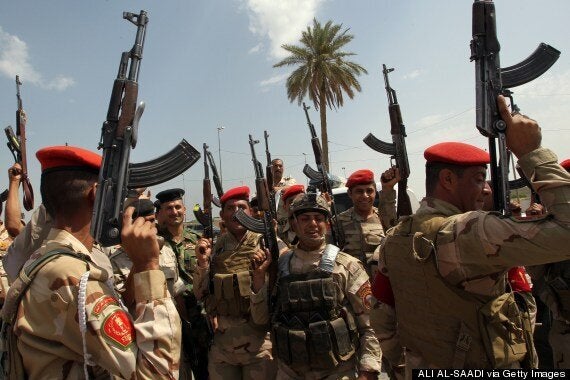 Iraqi army troops chant slogans against the Islamic State of Iraq and the Levant (ISIL) as they recruit volunteers
He has vowed that the US will not be "dragged back" into military action in Iraq as long as leaders in Baghdad refuse to reform a political system that has left the county vulnerable to a fast-moving Islamic insurgency.
The US president ruled out the possibility of putting American troops on the ground in Iraq, but said he was considering a range of other options drawn up by the Pentagon.
Meanwhile, thousands of Iraqi civilians are joining government forces to fight against the insurgents.
International Development Secretary Justine Greening said the initial tranche of emergency cash would allow agencies to supply water, sanitation, medicine, hygiene kits and basic household items.