Aston Martin Racing won GTE Am at Le Mans to take its third class win in the 24 Hours since the team was formed in 2004.
Kristian Poulsen took the chequered flag in the all-Danish Young Driver line-up that included David Heinemeier Hansson and Nicki Thim, finishing two laps ahead nearest rivals, the #88 Proton Competition Porsche 911 RSR. Third was the #61 AF Corse Ferrari 458 Italia.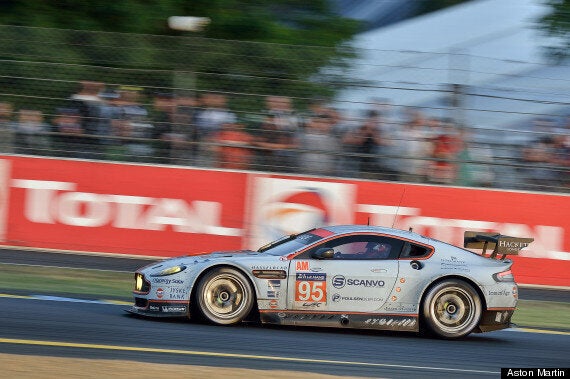 The all-Danish Aston Martin crew proved popular winners in GTE Am
Victory marked an emotional return to Le Mans for AMR 12 months after the three drivers' compatriot and colleague, Allan Simonsen, was killed. Boss David Richards had said earlier in the week Simonsen was 'with' the team.
"We have achieved what we were aiming for last year but didn't succeed," said Young Driver team owner, Jan Struve. "We have now fulfilled it and we know that Allan has been cheering for us and smiling down on us and, of course, he has been in our thoughts
"This win is extremely important to us and I'm proud of all of the team and drivers. They are all Le Mans winners."
As well as the Pro Am class for professional and amateur drivers, AMR had fielded two cars in the GTE Pro class for full factory teams. After one-third distance and following some epic battles with the Corvettes and Ferraris, the 97 Vantage GTE of Darren Turner, Stefan Mucke and Bruno Senna led GTE Pro while the top two spots were both held by AMR, the #98 car of Paul dalla Lana ahead of the eventual winning #95, driven by Thim.
Story continues after slideshow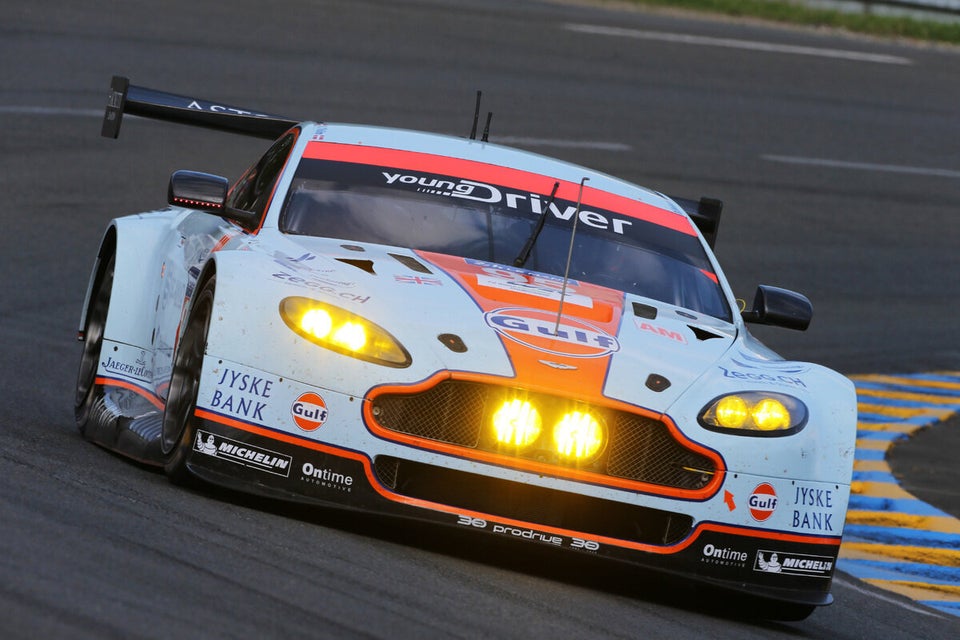 Aston Martin at Le Mans 2014
As the clock nearly reached 2300 CET, Turner was less than half a second behind the leading Chevrolet Corvette C7.R of fellow Briton Richard Westbrook on lap 71 before passing him on the Mulsanne Straight. He was still leading GTE Pro as the eight-hour mark came whilst Giancarlo Fisichella had moved up to second in the #51 AF Corse Ferrari 458 Italia.
Turner had taken over from former F1 driver Bruno Senna whose three-hour stint had put the Vantage into second.
At half-distance and after 161 trouble-free laps, the #97 Vantage was nearly 90 seconds ahead of #74 Corvette #51 Ferrari but for much of the preceding hours or so, there had been nothing between all three.
"It was a good stint," commented Mücke after his double stint in total darkness. "There was some oil on the track, which made driving difficult, but I just took some care. Bruno is in the car now and has done a fantastic job to keep the Corvette and Ferrari at bay."
The GTE Pro class remained tight between AMR and Ferrari after the #74 Corvette spent time in the pits with an oil leak. The #51 AF Corse Ferrari 458 Italia driven by Toni Vilander had retaken the class lead from the #97 Vantage after Stefan Mucke had pitted for a regular stop.
Stefan Mucke set about reclaiming top spot and passed the Ferrari, now with Giancarlo Fisichella at the wheel, on the Mulsanne Straight, while third place was taken by the #92 911 RSR of Porsche Team Manthey.
However, the #97 car dropped to fourth following a series of events. Taking advantage of a 'slow zone' yellow flag, it pitted early, rejoining a minute behind the #51 Ferrari but then lost another minute behind a safety car.
Mucke and then Senna both scrapped to keep the Aston in the lead but eventually a power steering problem brought their challenge to an end and they dropped to fourth before eventually finishing sixth in class.
The lead in the GTE Am class was much healthier though with the #95 Vantage holding a three-lap advantage over the #88 Porsche although they would finish just one lap to the good.
"The key to this race is reliability," said Heinemeier Hansson. "We've not pushed very hard but had a decent pace and made sure nothing bad happened. We had a two-lap lead because we've not been in the pits and that's how you win Le Mans. To win is magical."