Cathedral officials have unveiled a final design for the tomb in which Richard III's remains will be reinterred next year.
Leicester Cathedral also confirmed that the coffin set to be used to re-bury the 15th century ruler will be made by one his sister's direct descendants.
Dean of Leicester David Monteith said the cost of the re-burial project had been finalised at around £2.5 million.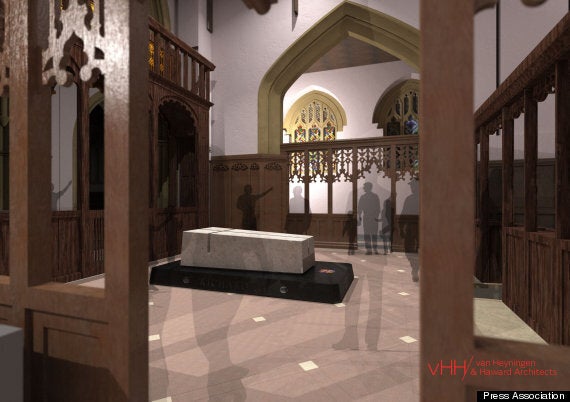 The planned resting place of Richard III
The remains of Richard, killed at the Battle of Bosworth in 1485, were discovered last year amid the ruin of an old friary buried beneath a Leicester car park, thanks to a relentless hunt for his grave carried out by the society.
Last year, an argument broke out about how the tomb should look, and some of the original donors, including people from overseas, refused to allow their pledges to be spent building the design.
The approved tomb, which has been accepted by the Cathedral Fabrics Commission for England, features a large block of Swaledale stone with a deeply incised cross, above a dark plinth of dark Kilkenny stone, carved with King Richard's name, dates, motto and coat of arms.
Unveiling images of the King's final resting place, the Dean of Leicester said: "This is a tomb which reflects the era in which it is designed as well as the solemn purpose for which it is commissioned.
"To do anything else would be a pastiche of a medieval tomb and would ignore the fact he is being reburied in the 21st century."
The coffin will be built by cabinet-maker Michael Ibsen, a known direct descendent of Richard III's sister, Anne.
"We are now in a position to move forward with absolute certainty,' the Dean added.
"We recognise that we are carrying out this responsibility on behalf of the entire nation and that the eyes of the world will be on Leicester at this unprecedented time.
"Our ambition for the scale of the re-interment events therefore reflects the importance of this momentous occasion."