"Why would I feel my place in the team is guaranteed?" Rooney rhetorically asked journalists in Manaus. "I work hard to try and get into that team. I have never said my place is guaranteed. I don't expect to play, but I work hard. I want to play.
"We have got a lot of good young players so we will all work hard. We all give the manager different options, different choices, and whoever he picks then I am sure we will all respect that."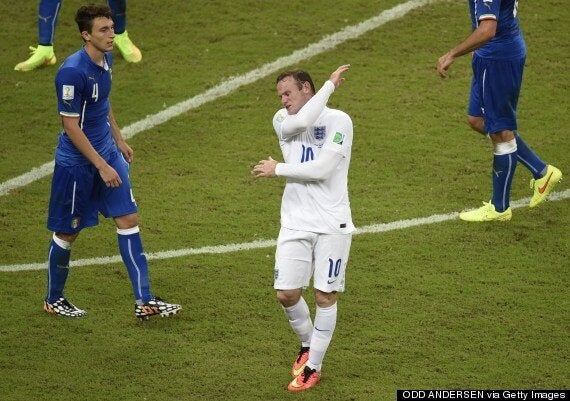 Another miss: Rooney has not scored in nine World Cup finals appearances
Rooney has not been "world-class", that abstract term, for over four years. The days of proving he belonged in the pantheon of current greats alongside Lionel Messi and Cristiano Ronaldo are well and truly over, and Rooney must instead prove to Roy Hodgson he should not drop him.
His biggest obstacle is Raheem Sterling, the 19-year-old who vexed the Italians on Saturday night. Sterling's display must have stung Rooney's pride. Ten years ago, he was the teenager terrorising defences on the international stage, as his then-Everton manager David Moyes watched from behind the sofa, resigned to losing the prodigy to another club. How galling for Rooney that was when he peaked for England.
Rooney has 39 England goals and he should surpass Sir Bobby Charlton's record goalscoring haul of 49, but his international career is in danger of being associated with failure. The Italy defeat was his ninth World Cup match without a goal, and his profligate finish past Salvatore Sirigu's post at 2-1 was England's best chance of an equaliser.
As Sterling, Daniel Sturridge and Danny Welbeck worried the Italians, Rooney left Leighton Baines exposed and was so problematic he forced Hodgson to alter England's attack to accommodate him.
This was avoidable had Hodgson not made the inexplicable error of starting Rooney on the left, though. Rooney began the warm-up match against Ecuador on the left and, his tap-in aside, struggled and was predictably peripheral. Hodgson originally said Rooney started there to gain "match fitness", yet admitted on the day of the game he was considering playing Rooney on the flank at the World Cup. It was a half-hearted audition, yet Hodgson was convinced.
The assist for Sturridge's goal aside, Rooney was wretched in a position he has gone on record as saying he has reservations about playing in. Sir Alex Ferguson abused Rooney's willingness to the player's detriment yet scarcely fielded him on the wing after Manchester United's disastrous 2009 Champions League final defeat to Barcelona in Rome. Rooney flourished under David Moyes not only due to the Scot's indulgence, but the assurance he would be played in a central attacking role.
Rooney was shoehorned into the side on Saturday, but however much he may abhor his wing role, a player of his talent should not be performing that badly.
Ostensibly, Sterling was switched to the playmaking role in an attempt to counter Andrea Pirlo and Marco Verrati. Hodgson, however, should have realised by now Rooney is so positionally anarchic and immobile the Italians would have capitalised on his positioning. England underestimated Matteo Darmian and Antonio Candreva, the Azzurri's right-wingers, and Baines endured a chastening evening as Candreva assisted Mario Balotelli's winner.
Hodgson's error was not to play Adam Lallana, which would have enabled England to retain a better shape without the ball and have an extra midfielder to stymie Pirlo. Although Hodgson was bold with his 4-2-3-1 formation, Italy coach Cesare Prandelli was never going to compromise the midfield triumvirate of Pirlo, Verrati and Daniele de Rossi, three efficient passers of the ball, while Candreva enjoyed extra freedom as a result of Rooney's indiscipline.
The Rooney conundrum can be solved either by omitting him or starting him as the centre-forward. Rooney's best season with United came as a lone striker, primarily in a 4-3-2-1 formation, and a similar system would spare him of defensive duties and grant Baines a new minder, possibly Danny Welbeck, billed as England's "best ball retriever" by Rio Ferdinand. That formation would, however, risk blunting England's best striker, Daniel Sturridge, who tended to roam across the front three on Saturday.
Alex Oxlade-Chamberlain's return to full fitness could benefit Rooney. The ebullient Arsenal midfielder's performances merited a World Cup start before injury intervened, and his selfless energy could torment a declining Uruguay side that looked toothless without Luis Suárez in their defeat to Costa Rica. England have not fielded a weaker defence at a major tournament this century, and Hodgson's oft-maligned cautiousness would be excused with the inclusion of a third midfielder.
Alternatively, Welbeck plays off Sturridge with Rooney on the bench. The duo have formed an understanding since their junior days in the national side and with the Uruguayan defence heavily reliant on the militant Diego Godín, raw pace is essential, which just Rooney does not possess anymore.