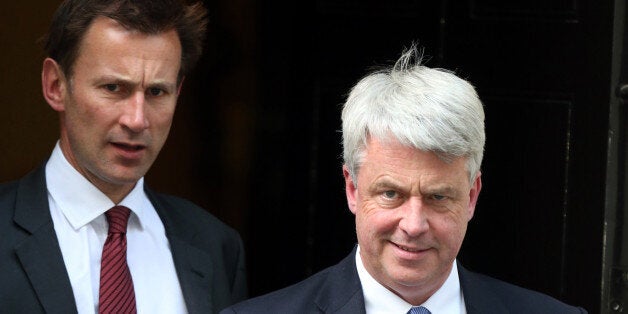 Lansley, who is currently leader of the House of Commons, is widely seen as the favourite to replace Baroness Ashton as the UK's representative on the commission this summer.
Speaking to reporters at a lunch in Westminster on Tuesday afternoon, Hunt predicted Lansley would be able to engineer a "top-down reorganisation" of the European Union that might be "somewhat more popular" than the one he imposed on the NHS.
Lansley was moved out of his job as health secretary by the prime minister in 2012 following his imposition of controversial reforms of the NHS. The changes were criticised for being precisely the "top-down reorganisation of the NHS" that Cameron had pledged not to undertake while in Opposition.
His appointment by David Cameron, if it is him, is likely to come at the same time as a major cabinet reshuffle, which is expected within the next two months.
Hunt also joked he felt he had "one of the most secure jobs in government" because there were "no other ministers who want it".
Last week Lansley admitted he was keen on the post in Brussels. "If the prime minister asks me, I want to say yes," he told the BBC. And he talked up his eurosceptic credentials placate Tory backbenchers who want a staunch anti-integrationist figure to get the job. "I have taken positions against entry to the euro. I have been very much against the idea of ever closer union and constant integration," he said.
If Cameron decides to ship Lansley off to Belgium this summer then it will trigger a by-election in his South Cambridgeshire seat. The Conservatives will be confident of holding on given his 7,838 majority, but the election will be another chance for Nigel Farage's Ukip to try and give the Tories a bloody nose.
Earlier this month Ukip tried but failed to capture the safe Tory seat of Newark in a by-election. After seeing his candidate finish in second place, Farage predicted his party would do better in the event of a South Cambridgeshire poll.