The Telegraph has cut high-profile journalists, including its deputy editor Benedict Brogan and blogs editor Damian Thompson, in the latest cull of journalists at the paper.
Thompson tweeted he had left the paper "in entirely amicable" circumstances as media-insider blog Guido Fawkes claimed Brogan was also being let go, saying "sources are adamant he's out". Brogan had not commented as this story went live.
His removal comes before Allister Heath, the editor of City AM, joins as deputy editor in charge of business next month.
The paper said the latest job losses were "limited" but declined to say how many or who was for the chop.
In a statement to The Huffington Post UK, a spokeswoman for the Telegraph Media Group said the job losses would be offset by 40 new editorial positions that are due to be created. She said this "makes a significant new investment in quality journalism".
These positions will see an expansion of "investigative reporting, data journalism, interactive tools and video production", she added, saying it would "strengthen the Telegraph's original reporting".
Jason Seiken, who was American broadcaster PBS's head of digital before his appointment as the Telegraph's "chief content officer and editor-in-chief", said the changes were "a strategic investment".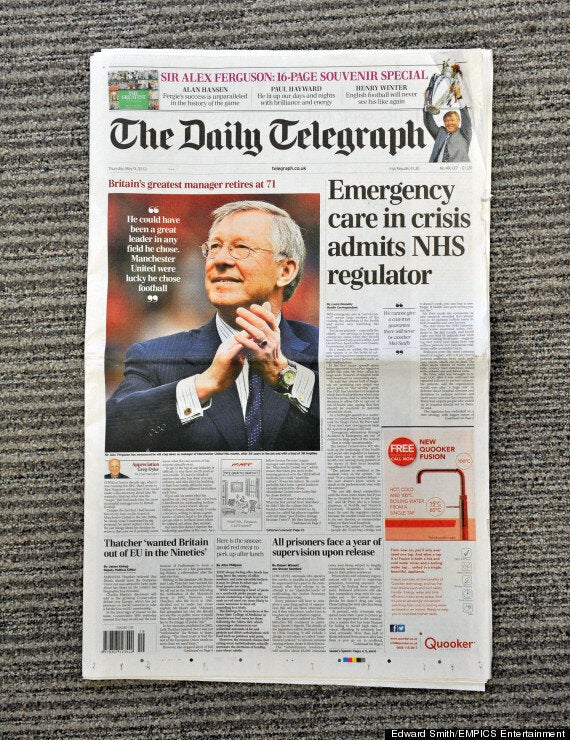 The Telegraph said the 'limited' job losses were part of a 'strategic investment' in new areas
He said: "I strongly believe that, in the long run, quality journalism wins.
"That is why we are focused relentlessly on two things: producing truly distinctive quality journalism; and ensuring this journalism is seen by the largest possible audience.
"Our investment in areas such as investigative reporting and data journalism will enhance the former, while our new positions focused on SEO and social media will power the latter."
The removal of Brogan follows the removal of editor Tony Gallagher in January, who claimed he had been sacked because he was "too powerful", amid tensions between him and Seiken.
Gallagher has since returned to his old paper, the Daily Mail, as deputy editor.
Brogan, who is one of Britain's most experienced political journalists and keenest observers of Westminster, joined the Telegraph in 2009 as assistant editor after four years as political editor at the Daily Mail.
He is best known for writing the Telegraph's Morning Briefing newsletter that was described as "an important resource for journalists and political junkies", according to the Total Politics website, which rated Brogan 16th on its list of top 100 political journalists.
HuffPost UK understands the popular newsletter will continue after Brogan's departure.
Related