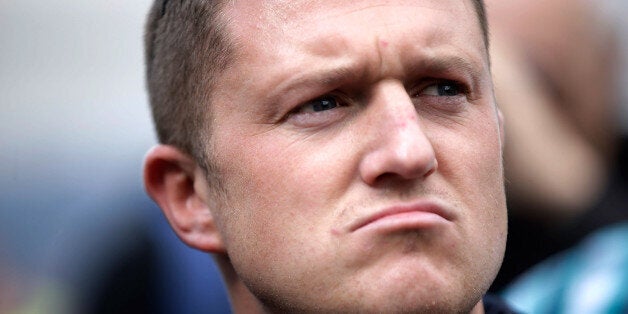 After he was sentenced to 18 months in prison in January 2014 for mortgage fraud, Robinson – whose real name is Stephen Yaxley Lennon – was sent to Woodhill prison.
There, 15% of inmates are Muslim – a national average – but, according to Robinson, these prisoners include a number of Islamist extremists who are apparently running the show.
In a series of eyebrow-raising claims, he said radical preachers are paid £100 for every prisoner they convert and that these preachers are the "enforcing sharia on the wings, preventing non-Muslims from taking showers [with Muslims]".
These claims have been denied by the prison. But last year a report by the prison officers' union showed how Muslim gangs are growing in power and influence among prisoners.
The report suggested that prisons are becoming a breeding ground for extremism and Robinson said that inmates are converting to become part of a Muslim gang in order to receive protection.
The former Home Secretary Lord Reid said in October last year that the sense of protection of being in a gang made them appealing to new arrivals, and described jail as "a very, very fertile ground for recruitment and proselytization and radicalisation".
Somewhat unsurprisingly, considering his former job, Robinson said he was less-than-welcomed by his Muslim fellow jailbirds.
"Almost immediately, I was attacked, beaten and kicked," Robinson told the Telegraph. He alleged this was a "set-up" by the authorities. "It was clear they were given a chance to get at me," he said.
It is not clear why, but Robinson was moved to HMP Winchester. He described that while in Woodhill he experienced "Islam the gang," in Winchester, he experienced "Islam the religion."
There, he reportedly made friends with a lot of Muslim prisoners, who he described as "great lads."
Robinson, now released from jail, has said he wants to set up a "working-class" think-tank or an organisation of his own. He said he wants to "find a productive way of giving people a voice for their concerns and fears in their community".
"I will plan a strategy for the best way I can bring experience from my last five years," he says. "We need a new England where all religions and colours feel proud of our flag and recognise how important our identity and culture is."
It is understood that 250 EDL supporters may try to march through some of Middlesbrough's ethnic minority areas, finishing at a war memorial.