 Unemployed youngsters should be stripped of state handouts unless they agree to training in vital skills, Ed Miliband is to say.
Bidding to counter Tory jibes that Labour is the "party of welfare", Miliband will call for 18 to 21 year olds to be given a "youth allowance" rather than out-of-work benefits.
But the money will be conditional on them signing up to learn key skills - and they will not get it if their parents are relatively well off.
People will also have to work longer to qualify for a boosted rate of Jobseeker's Allowance, as part of moves to restore the contributory principle to the system.
The commitments, unveiled in a speech to the IPPR think-tank, come with Miliband facing persistent questions about his leadership with under a year to go until the general election.
Last night former Cabinet minister Lord Mandelson appeared to offer only lukewarm support, saying only that Mr Miliband was "the leader we have".
Stressing Labour's devotion to fiscal discipline in his speech this morning, Miliband will promise "big changes, not big spending".
"We can't just hope to make do and mend and we can't just borrow and spend money to paper over the cracks," he will say.
Labour would increase the rate of contributory Jobseeker's Allowance (JSA) for people who had spent significant time in work before becoming unemployed.
But to fund a mooted rise from £71 to £100 a week, the period of employment needed to qualify would be extended - potentially from two to five years.
"It is a principle deeply felt by the British people that people should get something back for all they have put in and not get something for nothing," Miliband will insist.
"The next Labour government will change the way JSA operates to make sure that someone who has been working for years and years and paying in to the system gets more help if they lose their job than someone who has been working for just a couple of years.
"And we will pay for it not by spending more money in the social security system overall, but by extending the length of time people need to have worked to qualify."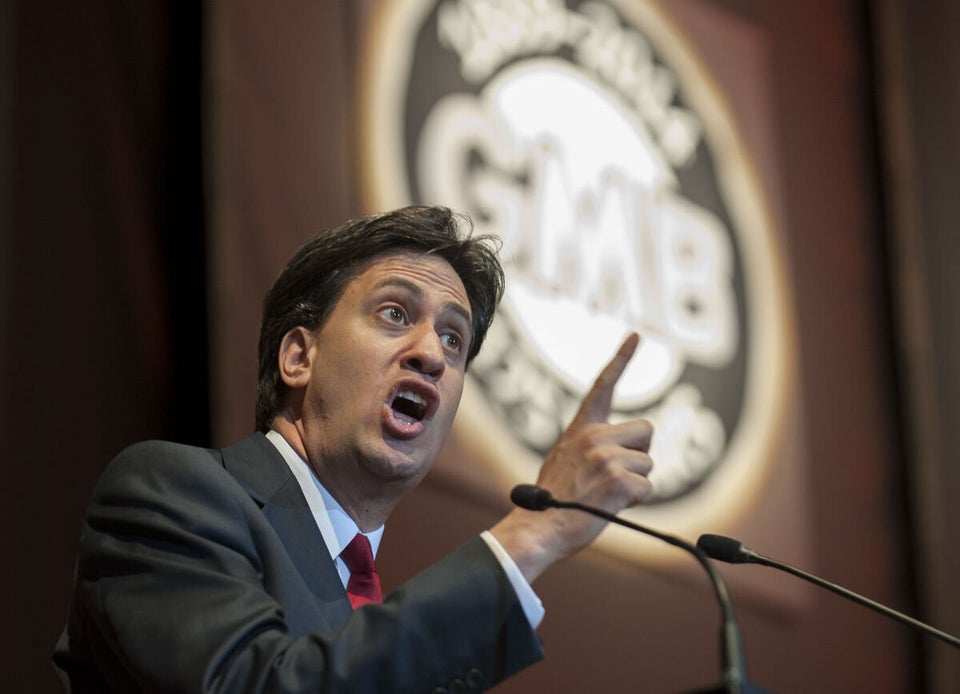 Ed Miliband's Wars Against British Business
David Cameron has already suggested barring under 25s from receiving any benefits unless they are "earning or learning" - but Labour has dismissed the pledge as too blunt an instrument and lacking detail.
Instead Miliband will back IPPR proposals to scrap out-of-work benefits for those aged 18-21 and replace them with a "youth allowance" of the same value - currently around £57 a week.
They will not get the money if their skills are considered inadequate and they refuse to sign up for training, or if their parents' income is too high. People with small children or disabilities will be exempted from the rules.
There was speculation that Labour would endorse a similar scheme from the IPPR before Christmas, which would have made benefits conditional up to the age of 25. But party sources said its Jobs Guarantee scheme made such a move unnecessary.
That policy would see 18 to 24 year olds who have been unemployed for a year offered a taxpayer-funded job for six months, with those who refuse losing benefits.
Conservative Party chairman Grant Shapps said: "This is just a recipe for more spending on welfare, more borrowing - and more taxes to pay for it. That's exactly how Labour got us into a mess in the first place.
"Ed Miliband has no economic plan. All he offers is more of the same old Labour, and Britain would have a less secure future as a result."
Asked on the BBC's Newsnight whether Miliband was the best leader the party could have, Lord Mandelson replied: "In my view he is the leader we have and therefore the leader I support, and somebody who I believe is capable of leading the party to victory."
He said Miliband was "choosing a different course" from ex-prime minister Tony Blair, adding that it "may work".
"What Ed is trying to do is approach politics in a rather different way from the way in which Tony Blair and New Labour approached it," Lord Mandelson said.
"It may work. It may well be successful. I would say to you that electoral arithematic is probably on his side."
The peer said Mr Miliband had brought forward eye-catching policies, but now had a year before the general election to wind them into a "convincing, vivid narrative".
"Having policies though without those being drawn together into a convinging vivid narrative, a story about yourself, who you are what you stand for and what you are going to do for people in the country, is really not enough," he insisted.
He said the emphasis on social justice needed to be balanced with an explanation on how Labour would encourage growth and jobs,"which he has a year to do", Lord Mandelson added.
Meanwhile, former home secretary Alan Johnson told the New Statesman magazine the Labour leader was "not as able to connect (with people) as strongly" as his brother David.
"It's not his strong point," he said. "I can't pretend that, knocking on doors, people come out and they're really enthusiastic about Ed."
Shadow work and pensions secretary Rachel Reeves said Labour's position was a "very different policy" from the one proposed by the IPPR last year, which she had spoken out against.
"In October the policy was all 18 to 25-year-olds, regardless of whether they had worked previously, regardless of whether they already had qualifications - A-levels, vocational qualifications, university degrees - and it was also restricting housing benefit for everybody under the age of 25," she said.
"So the policy today is a very different policy."
Related